Copper foil tape for RF shielding, extremely useful also for guitars 30cm x 30cm
Main Page > Parts for musical instruments > Machineheads and other parts OL / SPG / Boston > Pickup building parts
Tuote 103406. Coppertape, copper shielding tape (copperfoil) non conductive adhesive backing. 30 cm x 30 cm Copper shielding foil, with non conductive adhesive backing.
This also helps many times to reduce the hum, buzz and other interferences from electronics such as now very common problems that comes from those small energy saving switched power supplies which are used for small effect boxes etc ...
Kupariteippi copper shielding tape foil (kuparifolioteippi) 30cm x 30cm. Kupariteippi (kuparifolioteippi tai oikeastaan folio ei ehkä enään teipiksi voi kutsua kun on noin iso pala), leveys 30 cm x 30 cm levy. Kuparifolio liimapinnalla, hyötypinta-ala n. 30cm x 30cm / pala. Kitaroiden pleksilevyjen taakse häiriösuojaukseen, yhdellä palalla koko pleksi kuparipinnalle jos haluaa. Kitaramikrofonien suojauksiin, RF-suojaukseen, antennien ja maatasojen tekoon, kelojen tekoon jne. Ei johtava liima. Katso myös sähköä johtava maali sivuiltamme.
See also
Tuote 102277. Gotoh® paristokotelo BB-04WS kahdelle paristolle. Erilliset johtimet kummallekkin. Kaksitoiminen varmennus pariston kiinnitykselle, vaikka kansi aukeaisi, pitää erillinen...
Tuote 103178. Koriste "reuna" nauha, reunalista, binding material. ABS. Mitat noin mittoja. White, 1.5 mm x 8 mm x 1700 mm.
Tuote 107256. Tallapalat Wilkinson WTB TC -tyyliseen tallaan, setti 3 kpl. Bridge saddles, brass, for B-WTB bridges. Set of 3 staggered compensated Telecaster saddles. Allows...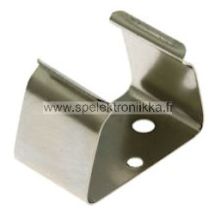 Tuote 114690. Paristonpidin 9V patterille paristo mahalleen, terästä 4 ruuvinreikää. Leveys alhaalta n. 25 mm, korkeus n. 19.5 mm.
Copper tape for RF shielding, extremely useful for guitars.
Tukeva rakenne korkealaatuinen paristoneppari, neppariosa on kovaa muovia.
Tarkka kopio OAK kytkimestä.
Tuote 114234. Kulkuset puukahvalla 7 n. 25 mm kulkusta Hayman. Hand jingle bells, with handle, wood and leather, 7 bells of 25 mm. Kahvan pituus n. 10 cm.
Tuote 101944. Vaihtokytkimen nuppi. TCH-340-INSW, kromattua messinkiä LP -tyylinen nuppi. Tuumakoko. Switchcraftin kytkimiin.