Copper tape for RF shielding, extremely useful for guitars 1m, leveys 50mm
Main Page > Parts for musical instruments > Machineheads and other parts Boston / SPG > Pickup building parts
Tuote 104034. Coppertape, copper shielding tape non conductive adhesive backing. Sold as 1 m. Width 50 mm, with non conductive adhesive backing.
This also helps many times to reduce the hum, buzz and other interferences from electronics such as now very common problems that comes from those small energy saving switched power supplies which are used for small effect boxes etc ...
Kupariteippi copper shielding tape (kuparifolioteippi) 1m, leveys 50mm. Kupariteippi (kuparifolioteippi), leveys 50 mm, teippejä myydään metreittäin. Kitaroiden pleksilevyjen taakse häiriösuojaukseen. Kitaramikrofonien suojauksiin, RF-suojaukseen, antennien ja maatasojen tekoon, kelojen tekoon jne. Ei johtava liima. Katso myös sähköä johtava maali sivuiltamme.
See also
Copper tape for RF shielding, extremely useful for guitars.
Tuote 104131. Ovaalikanta nikkeli puuruuvi 3025NIW. 3 x 25 mm, wood, NI, oval. Soitinrakentelussa käytettäviä ruuveja. Mounting...
Tuote 103231. Nitroselluloosalakka kitaroille spraypurkki 500 ml, kirkas gloss. Kitaroiden lakkaukseen vintagetyylillä. Nitroselluloosalakka spray purkissa 500...
Vintage stranded wire !!!
Tuote SSH20256. Sähköä johtava lakka Graphit 33 spray. Tämä spray soveltuu monenlaisten häiriösuojauksien tekemisiin esim. muovikoteloiden sisäpinnat, kitaran sisustat...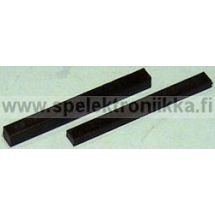 Tuote 102028. Muoviset korotepalat humbucker mikrofonien alle. Plastic shim for humbucker bobbin. Sizes:
3 x...
Tuote 103209. Kitaran pleksilevy aihio, plektrasuoja aihio Black 1ply, B1PLYBIG, 290 x 450 mm. Kaikki mitat noin mittoja. Laadukas...
Vintage pushback 18 awg stranded wire !!!
Tuote 103053. Kaulan kiinnityslevy kaulalevy KAULE1CR, kromi. Neck joint plates. Laadukas, hyväpinnoitteinen ja tukeva Boston Musical Products. Kaulalevy. Screw holes...