Blade bobbin for humbucker black
Main Page > Parts for musical instruments > Machineheads and other parts OL / SPG / Boston > Pickup building parts
Tuote STL21243. Blade bobbin for humbucker black.  One bobbin.
See also
Tuote 102032. Guitar pickup bobbin GBOB2017 for blades etc ... Outer dim. h 9.6 x w 12.5 x L 64.7 mm. Space for magnet 3 x 53.5 mm, or blade that size.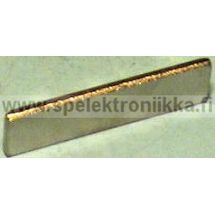 Tuote 102036. Hotrail STEELBAR for GBOB5. Steelbar for GBOB5, 3 x 14 x 53.5mm. When used this, you need two CERA5575 and cut those to length you need, or leave those oversize. GBOB5...
Tuote SKL23744. Two way truss rod n. 490 mm TRUSSROD490/2020. The end of the truss iron has a 4 mm hex head inside, with this solution the outer circumference of the...
Tuote 102024. Vintage slugscrew dia. 4.8 mm length 15 mm for vintage humbucker bobbins etc ... Halk. 4.8mm, pit. 15mm. Sopii esim. meidän vintage humbucker runkoihin joissa...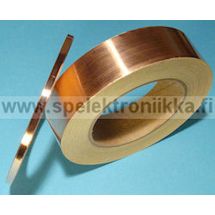 Copper tape with conductive adhesive for earthing, RF protection, etc ...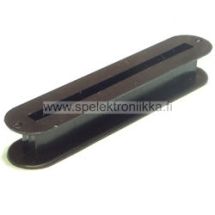 Tuote 102035. Kelarunko GBOB5 hotrail single blade. Bobbins for pickups. Model 5.Outer dim. h 9.5 x w 12.5 x L 65mm inner dim. h 7.5 x w 5.1 x L 55.5 mm. Kelarunko joka...
Tuote SHM21245. Humbucker / single bobbin vintage tall pitch 52 black. 5mm polepiece slug holes. Magnets and steel polepieces fits in. Also you can use ceramic or alnico...
Tuote SKL23338. Kieltenpujotusholkki KPH62019BK setti 6kpl. Korkeus n. 11.2mm, halkaisija n. 6.5mm, laipan halkaisija n. 8mm, sisäreikä laipan puolella n. 5.2mm, sisäreikä kartion...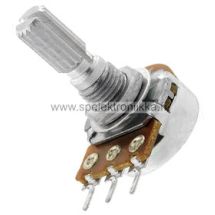 Tuote 107061. Monopotentiometri 500 kohm lineaarinen, metallia. Booritettu akseli 6mm, tehonkesto 100mW, jännitekesto 20VDC tai 150 VAC, rungon halkaisija n. 17 mm, paksuus...