Yksikelainen ST kitaramikrofoni OL® SP050WHT White Middle
Main Page > Parts for musical instruments > Machineheads and other parts OL / SPG / Boston > Guitar pickups
Tuote STC20572. Yksikelainen ST kitaramikrofoni OL® SP050WHT White Middle. Ceramic. Screws and springs included. DC resistance n. 6 k, inductance n. 5.8 H. Wires Red/Black.
Kitaramikrofonin resonanssitaajuus vaikuttaa suuresti mikrofonin välittämään ääneen ja sävyyn. Pystyt vaikuttamaan resonanssitaajuuteen monipuolisimmin kun kytket tonepotikan paikalle kiertokytkimen, missä on eriarvoisia kondensaattoreita. Arvot välillä esim. 220 pF - 2.2 nF. Näin saat aikaan todellisen "vintage" viritelmän ja kitarasi soundimaailma muuttuu huomattavasti. Kytkis löytyy nettisivuiltamme. Samaan asiaan vaikuttaa myös kaapelien kapasitanssit jne... Aktiivimikit ovat "tunteettomia" ko. asioille, siksi niiden välittämä sointi on aina "kutakuinkin" samanlainen riippumatta piuhojen pituuksista tai vahvistimien input impedansseista. Kuvastomme mikrofonit valmistetaan pääasiassa Japanissa, Koreassa ja Kiinassa, niitä myydään ympäri maailman myös eri tuotemerkeillä ja tyypeillä. Mikrofonit ovat saaneet erittäin hyvää palautetta rakentelijoilta.
Mikrofonien suhteellinen vahvistus ja resonanssitaajuus on mitattu 500 kohm / 680 pF kuormaan (ellei valmistaja ole antanut tietoja), joka on todellisuudessa kutakuinkin potikka + 6 m suojattu kaapeli. Tällainen mittaustapa on yleinen mikrofonivalmistajien keskuudessa, tosin vain harvat ilmoittavat niitä tuloksia. Impedanssi resonanssitaajuudelle voidaan laskea kaavalla 2 x 3.14 x f x L = Z (ohm). f = hertseinä, L = henryinä. Mitatut arvot ovat tyypillisiä ko. tuotteille. Humbuckerit on mitattu sarjaan käämityillä keloilla. TC -tyylin ylämikkejä ei ole mitattu niiden valmistustekniikasta johtuen. (Metallikuori pitäisi irrottaa ja tällöin käämin vioittumisriski on erittäin suuri).
You can greate extremely wide sound to your quitar by taking off tonepot and replace it by switch with condensators with different
values. Schematic in our web pages... Those change the resonant frequency, same happens also with long cables etc… because of different capasitance. Active pickups don't suffer from this. Pickups relative gain and resonance frequency are measured to 500 kohm / 680 pF load (if manufacturer hasn't give that information). Which is about same as pot and 20 feet cable. All measured values are typical
to product. Pickups are mainly made in Korea or Japan and those are also sold all over world with different brand names.
See also
Tuote 114865. Hihnanuppipari HN492CR kromi 2kpl ja ruuvit. Korkeus 9.3 mm, laipat 10 / 14 mm, reikä 4 mm.
Tuote STC20571. Yksikelainen ST kitaramikrofoni OL® SP048WHT White Neck. Ceramic. Screws and springs included. DC resistance n. 5.8 k, inductance n. 5.7 H. Wires White/Black.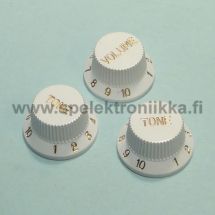 Tuote SST21086. ST nuppisarja valkoinen 1 x volume 2 x tone. Korkeus n. 13 mm , leveys n. 17/25 mm. Boston Musical Products tai Korea, riippuen varastotilanteesta.
Tuote 109255. Strato jakkilevy, ST -tyylinen JAKLE4CR kromi. Jakkilevy kitaralle. ST -tyylinen. ST -style jackplate. Laadukas, paksusta materiaalista tehty hyvällä pinnoitteella...
Vintage stranded wire !!!