Siren piezo siren 6 - 14VDC powerful very fast rising and falling loud sound
Main Page > Electronic components etc ... > Siren, buzzers, electrec mic's
Product 111020. Siren piezo siren 6 - 14VDC powerful very fast rising and falling loud sound. Really annoying sound especially in the room. 106dB / 1m. A good burglar alarm siren for eg motorcycle, boat, car, etc ... Size approx. 60 x 40 x 35 mm. Mounting bracket. Power consumption approx. 120mA / 12VDC. Not moisture protected. Buzzer alarm siren piezo buzzer piezo siren piezo siren buzzers sirens.
See also
Tuote 107732. Ultraäänilähetin UTX 40kHz 2000pF. Ultraäänilähetin UTX 40 kHz, cap. 2000pF, halkaisija 13 mm, max. driving voltage 20V rms, -40 ... + 85ºC. Sound...
Tuote SSR21569. Sireeni 110dB 12V / 200 mA ei merkkivaloa. UV-proof, hi-impact (polycarbonate housing),  protected against polarity reversal by diode.
Oivalinen lisävalo hälyttimiin !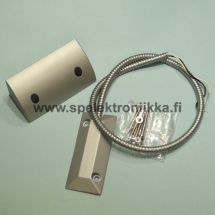 Tuote SVK20526. Magneettikytkin nosto-oveen ovikytkin liukuoveen. Käytetään yleisesti hälytysjärjestelmissä erillaisissa ovien kiinni/auki tietojen anturina jne...