Satula-aihio muovia, musta SATUAIMBK
Main Page > Parts for musical instruments > Machineheads and other parts OL / SPG / Boston > Saddles and nuts > Satulat satula-aihiot muovia
Tuote 103001. Satula-aihio muovia, viistetty ja hieman muotoiltu. Blank plastic saddle, slightly taper towards top. Width 108.50 mm, thickness from bottom 5.9 mm to top 4.3 mm, max.
height 9.10 mm. (4.27x0.23/0.17x0.36").
See also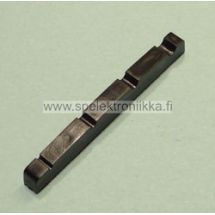 Tuote 102966. Muovisatula 4 -kieliselle bassolle. Plastic pre slotted saddle to 4 -string bass. Width
42 mm, thickness 3.5 mm, max...
Tuote 114857. Laitekotelo musta muovia BOX 341B. Koko n. 184 x 108 x 61 (sisämitat). Ulkomitat n. 188 x 112 x 67. Euro 1 kortti mahtuu lappeellaan kotelon pohjalle. Pystyssä olevat...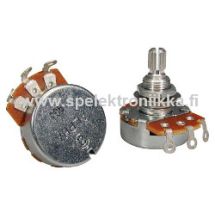 Tuumakoon kierreosa, eli menee USA kitaroihin. Standard length bushing .375", 3/8" diameter.
Tuote 105438. WTBBLK, Wilkinson TC -tyylinen vintage talla, musta. Wilkinson® Tele TC -tyylinen sähkökitaran vintage talla kolmella palalla. Setti...
Tuote 109274. String thru top ferrule gold KPH521GD. String thru top ferrules. Strings can be mounted without tailpiece. Runko 4 mm, laippa 5.5 mm, reikä 2.5 mm, pituus...
Tuote 109792. Trussiraudan peitelevy " Jackson " malli, black 1ply. Trussrod cover, black, plastic. Paksuus n. 1.4 mm, n. 32.8 x 14.0 x 43.6 mm. Suojakalvo.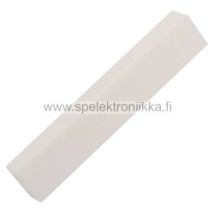 Todella hyvä koko monenlaiseen tekemiseen !
Tuote 102276. Gotoh® paristokotelo BB-04 yhdelle paristolle. Kaksitoiminen varmennus pariston kiinnitykselle, vaikka kansi aukeaisi, pitää erillinen lukitus vielä pariston...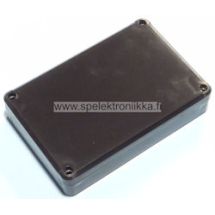 Tuote 103896. Elektroniikan laitekotelo ABS musta muovikotelo BOX 12. Erittäin tukevaa tekoa, materiaalipaksuus min. 3mm, tästä kotelosta saa tehtyä myös vedenpitävän laittamalla...