Eebenpuinen otelauta-aihio pala viululle n. 300x45x15/19 mm
Main Page > Parts for musical instruments > Machineheads and other parts OL / SPG / Boston > Raw wood for guitar building
Tuote 111021. Eebenpuinen otelauta-aihio pala viululle n. 300x45x15/19 mm. Raaka-aihio pala, voi olla johonkin suuntaa isompi, mutta nuo ilmoitetut mitat ovat minimi mittoja jotka täyttyvät tai ylittyvät kaikilla palasilla.
See also
Tuote 109061. Pienen mustan moninapaliittimen naaras kontakti. Moninapaliitin kontakti. Tähän saa kohtuudella puristettua maksimissaan n. 0.3 neliön johdon.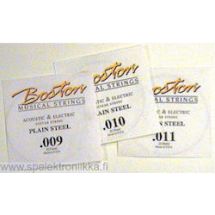 Tuote 103089. Sähkökitaran varakieli, teräs 0.011. Boston Musical Products. Paksuus n. 0.28 mm.
Tuote 107483. Otelautanauha FRETWIRE30S (HV150) jumbo standard. Nickel / Silver = (German Silver, Paktong, New Silver). Toimitetaan n. 40 cm pätkissä. Kovuus noin...
Tuote 107559. Viulun talla Aubert Made in France 1/16. Korkeus n. 28 mm.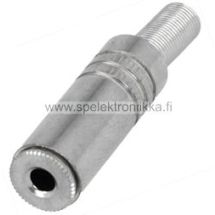 Tuote 115289. Monojatko monojakki 3.5 mm, metallikuori, taivutussuojalla.
Tuote 104501. Reedputki (reed-putki), 2.8 mm x 20 mm RP5. Magneetin voimalla saadaan aikaan kytkevä kontakti kun magneetti tuodaan tarpeeksi lähelle lasiputkea. Pienjännitekytkentöihin.
Tuote 107557. Viulun talla Teller made in Germany 1/64. Korkeus n. 20 mm.
Tuote 103946. Neutrik jakki, pitkällä kierteellä, ei hihnanuppia KJ63CR. Pitkällä kierteellä oleva 6.3 mm Neutrik jakki. Voidaan johdottaa joko stereoksi tai monoksi, asennusreikä 12...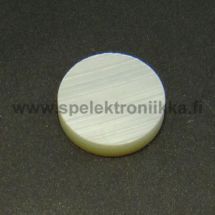 Tuote 104530. Inlay dots pearl dots Genuine White Mother of Pearl  6mm OTEMOP6. White "pearl" (MOP) round fretboard marks. Genuine White Mother of Pearl fretboard dots. Selected...