Mini electric motor, rated voltage 12V / 6600 rpm
Main Page > Electronic components etc ... > Solenoidit, sähkömagneetit, moottorit .. > Sähkömoottorit DC moottorit
Tuote 109123. Mini electric motor, rated voltage 12V / 6600 rpm. Shaft diameter 2mm, length 10 mm. Motor diameter 25 mm, length 31 mm. Weight 21g. Short-circuit current 3V approx. 250mA / 6V approx. 500mA / 9V approx. 0.7A / 12V approx. 1A. Starts up at 3V, but the torque is then pretty negligible.
See also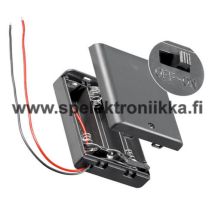 Tuote 108203. 3x AA (Mignon) battery holder Loose cable ends, water-repellent, switchable. Battery box for 3 x AA/R6, srew locking lid. With "ON - OFF" -switch. Paristokotelo...
Tuote 109541. Hihnapyörä, muovia, musta halkaisija 30 mm. 2mm akseliin, paksuus 6 mm.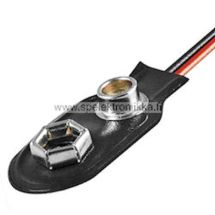 Tuote 103836. Paristoneppari, suora "tavallinen" johdot n. 150 mm. 9V paristolle ja monille muille samoilla kontakteilla oleville paristonpitimille.
Tuote 109539. Miniature motor 3V, 1.5 - 4.5V, shaft diameter 2 mm, length about 8 mm. Frame max. length approx. 29 mm, body diameter approx. 15 x 20 mm. Idle current 1.5V...
Tuote 104470. Teräsakseli terästanko halkaisija 2mm, pituus n. 100mm +/- 3-4mm.
Tuote 107609. Pienoisvipukytkin, 1 x vaihto, vipukytkin 1 x ON - ON. 125VAC / 2A. Tällä saa tietenkin tehtyä myös toiminnan ON - OFF.