Miniature motor 3V, 1.5 - 4.5V, shaft diameter 2 mm
Main Page > Electronic components etc ... > Solenoidit, sähkömagneetit, moottorit .. > Sähkömoottorit DC moottorit
Tuote 109539. Miniature motor 3V, 1.5 - 4.5V, shaft diameter 2 mm, length about 8 mm. Frame max. length approx. 29 mm, body diameter approx. 15 x 20 mm. Idle current 1.5V <200mA / 3V <300mA / 4.5V <350 mA. Short-circuit current 3V approx. 3.5A. Weight approx. 17 g. The shaft of this motor is firmly attached to all our gears / pulleys, etc. where a 2 mm hole is reported. Also great for Arduino and robotics applications. Remember that these small toy motors break easily if they are used even momentarily with overvoltage or the power consumption is too high.
This motor is mechanically suitable for our plastic-shell geared motors, with this motor you get a modified speed for standard models.
Stepper motor DC motor Arduino robot motor gearbox motor.
See also
Tuote 104470. Teräsakseli terästanko halkaisija 2mm, pituus n. 100mm +/- 3-4mm.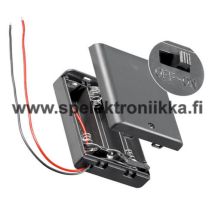 Tuote 108203. 3x AA (Mignon) battery holder Loose cable ends, water-repellent, switchable. Battery box for 3 x AA/R6, srew locking lid. With "ON - OFF" -switch. Paristokotelo...
Tuote 108202. Paristokotelo 2 x AA/R6 kytkimellä, kiinniruuvattava kansi BATBOX55. Paikka 2 x AA, johto n. 15 cm. Koko n. 18 x 33 x 69 mm. Kotelossa "ON-OFF" -kytkin. Battery...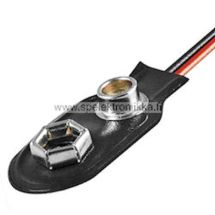 Tuote 103836. Paristoneppari, suora "tavallinen" johdot n. 150 mm. 9V paristolle ja monille muille samoilla kontakteilla oleville paristonpitimille.
Tuote 107609. Pienoisvipukytkin, 1 x vaihto, vipukytkin 1 x ON - ON. 125VAC / 2A. Tällä saa tietenkin tehtyä myös toiminnan ON - OFF.
Tuote 109123. Mini electric motor, rated voltage 12V / 6600 rpm. Shaft diameter 2mm, length 10 mm. Motor diameter 25 mm, length 31 mm. Weight 21g. Short-circuit current...