PB -tyylinen pleksi White / Black / White PB23W/B/W
Main Page > Parts for musical instruments > Machineheads and other parts OL / SPG / Boston > Pickguards PB
Tuote 105466. PB -tyylinen pleksi White / Black / White PB23W/B/W. 3ply. Kuvat suuntaa-antavia, värisävyt eivät toistu useinkaan tietokoneen näytöllä sellaisina kuin ne luonnossa ovat. PB -style bass pickguard.
Muistathan, että kitarapleksimme eivät ole varaosia millekkään tietylle merkille eikä mallille. Kiinnitysruuvien reiät voi olla eri kohdilla jos meinaat "päivittää" uuden pleksin kitaraasi. Pleksin asentaminen vaatii tällöin uusien ruuvinreikien tekemisen kitaraan.
See also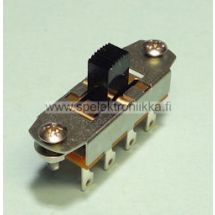 Tuote 101890. Mustang mikrofinvaihtokytkin malli 1 Mustang switch pitkät jalat. Ruuvit ja mutterit mukana. Mustang pickup switch. Piirustuksessa...
Tuote 101928. Vaihtokytkimen nuppi. LW-360, valkoinen 3 ja 5 -asentoisten kytkinten nuppi, DM30 ja DM50 -kytkimille. 360 -sarja "tynnyri" TC -tyylisille kitaroille. Millimitoitus.
Tuote SLM20565. Metallinuppi 18 x 19 push to fit kromi flat dome 6mm akselille. Halk. 18 mm, korkeus 19 mm. Sopii kaikille meidän potikoiden  rihlatuille ja halkaistuille 6mm...
Tuote 102428. PB -tyylinen basson kontrollipaneeli. PB -style bass control plate. Screw holes 5 x flat or oval head, dia. 3.4 mm (0.134"), pot holes dia. 8.5mm (0.335"), sw...
Tuote 101919. Vaihtokytkimen nuppi. VIPNUPCM, ivory 3 ja 5 -asentoisten kytkinten nuppi, 3WAY-SW01:lle, 5WAYSW01:lle, sekä OL kytkimille. Millimitoitus.
Tuote 102053. Kompassi 8 mm x 25 mm, mikrofonimagneettien napaisuuksien testaamiseen ym. ym. Ei sovellu suunnistukseen. Compass, can be used for example testing pickupmagnets...
Tuote 105426. Chicken head osoitin nuppi, yellow. Potentiometrin nuppi. Chicken head knob, muovinen osoitin-nuppi. Push to Fit 6mm akselille. Pituus n. 32 mm, max. leveys...
Tuote 109090. Valoherkän lakan kehitysaine DEV-21. Pieni pussukka, pussukan sisältö riittää 1L kehitemäärän valmistukseen. Tee koko litku kerralla, tumma pullo...
Tuote SNT20569. Natriumpersulfaatti 500g piirilevyjen syövytykseen. Sekoitussuhde 1:5 - 1:4 hieman vaihtelee miten on tottunut tekemään. Eli 100g ainetta ja puoli litraa...