Kitarahihna, guitar strap GST600BK
Main Page > Accessories for music > Kitarahihnat Gaucho guitar straps
Tuote 103318. GST600BK. Musta kitarahihna. Topattu monikerros, pinta aitoa nahkaa, pohja keinonahkaa. Leveys 80mm, paksuus 7mm, pituus säädettävissä 112cm - 130cm. Mitat noin mittoja.
Coated leather padded guitar strap with extra width black faux leather lining. Guitar strap, black leather, black padded back.
See also
Tuote 103407. GST310DBR. Tummanruskea topattu monikerroshihna, keinonahkaa. Leveys 80mm, paksuus 8mm, pituus säädettävissä 115cm - 135cm. Mitat noin mittoja. Padded...
Tuote 107609. Pienoisvipukytkin, 1 x vaihto, vipukytkin 1 x ON - ON. 125VAC / 2A. Tällä saa tietenkin tehtyä myös toiminnan ON - OFF.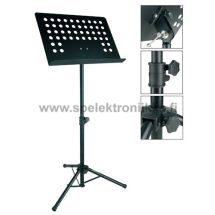 Tuote 100866. Nuottiteline rei'itetty Boston OMS-302 orkesteriteline hevimpiin hommiin, rei'itettyä mustaa terästä, jalustalla, monipuoliset säädöt. Erittäin tukeva. Levy...
Tuote 439912. Hihnanuppipari ruuvit mukana Bostonin lukkoon kulta. Asiakkaat ovat maininneet, että nämä sopivat myös Schallerin lukkoon. 
Tuote 113683. Juotostina, lyijytön, 100g 0.25mm Sn99 3Cu0.7 no clean 3%.
Tuote 105676. Analoginen juotosasema 230VAC / 48W, lämpötilasäädöllä, n. 150 - 450°C. Soveltuu oivallisesti jalallisten komponenttien tinailuihin ja tietenkin pintaliitostenkin...
Tuote 115338. Dunlop 6554 Ultimate Lemon Oil Fretboard 65 ei vaahteraotelaudalle. Fretboard 65 Ultimate Lemon Oil fingerboard polish, bottle with dab-o-matic applicator...