Kitarahihna, guitar strap GST282BK
Main Page > Accessories for music > Kitarahihnat Gaucho guitar straps
Tuote 103308. GST282BK. Musta topattu kitarahihna, kartioniiteillä. Päältä keinonahkaa, vuoraus aitoa nahkaa. Leveys 60mm, paksuus 6mm, pituus säädettävissä 120cm - 130cm. Mitat noin mittoja.
Faux leather guitar strap with various chrome designs. Genuine leather lining. Guitar strap, black, with chrome "arrowhead" buttons.
See also
Tuote 114941. Peukaloplektra celluloidia medium sekalaiset värit.
Tuote SPR21120. Paristokotelo 9V 6F22 / 6LR61 / PP3 kannella kytkimellä ja johdoilla. Koko n. 21 x 35 x 70 mm. Johto n. 15 cm.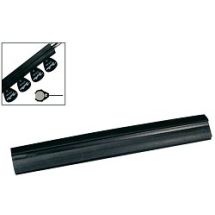 Tuote 101613. Plektranpidin mikkitelineeseen. Sopii kiinnitettäväksi mikrofonitelineen varteen tms. Pituus 17cm, musta. Plektrat ei mukana. Vaikuttaa jonkinmoiselta ikkunan...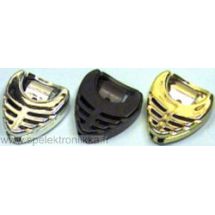 Tuote 103085. Plektranpidin tarralla PHBK. Pick holders, self adhesive. Muovia, plastic.