LCD -näyttö LM1125 taustavalo 2x16 merkkiä
Main Page > Electronic components etc ... > LCD -näytöt
Tuote 100383. LCD -näyttö  LM1125 taustavalo 2x16 merkkiä. LCD -näyttö LM1125, 2 -rivinen, 16 -merkkiä/rivi, ohjain on HD 44780 yhteensopiva. Taustavalon virranrajoitusvastukset näytön piirilevyllä. Laita kuitenkin 3.9 ... 8.2 ohm 1W tai enempi sarjavastus taustavalon anodille, koska pitempiaikaisessa valonpoltossa 5 voltin jännitteellä piirilevyllä olevat SMD -vastukset läpenevät huomattavasti. Piirilevy 44 mm x 122 mm, näyttöikkuna 24 mm x 99 mm. TAUSTAVALOLLA. SPEKSIT 
See also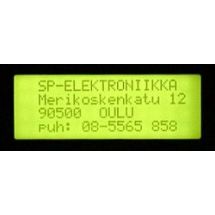 Tuote 100387. LCD -näyttö M204-1A2, 4 -rivinen, 20 merkkiä / rivi, ohjain on HD 44780 yhteensopiva. Jos otat taustavalon jännitteen esim. 5V...
Copper tape with conductive adhesive for earthing, RF protection, etc ...
Copper tape for RF shielding, extremely useful for guitars.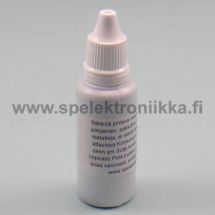 Tuote 108587. Electric paint 30ml black. Thick mixture, it is advisable to always mix before use, with water getting more fluid. Water-based, does not contain metals, does...
Tuote 106786. DS18B20+ Digitaalinen lämpötila-anturi TO-92. DS 18B20+ DS 18B20 + DS1820 + DS1820...