Vintage humbucker runko 4.8 mm polepiece 50 mm pitch black
Main Page > Parts for musical instruments > Machineheads and other parts Boston / SPG > Pickup building parts
Tuote SVN90100. Vintage humbucker bobbin for 4.8 mm polepiece 50 mm pitch black.
Humbucker bobbins with magnet holes / steel polepiece slugs.
SIZES OF HUMBUCKER BOBBINS
Polepiece spacing 50 mm (1.96") or 52 mm (2.05"). Height 10 mm (0.39"), length 68.4mm (2.69"),width 17.6mm (0.69"). Colours cream or black, (CM or B).
Piirustuskuva suuntaa-antava ja voi poiketa pieniltä osin varsinaisesta tuotteesta.
See also
Kromatut teräspalat vintage humbuckereihin 4.8mm...
Tuote 102793. Otelautanauha, fret wire, FRETWIRE30H. Nickel / Silver = (German Silver, Paktong, New Silver). Toimitetaan n. 40 cm pätkissä. FRETWIRE30H kovuus HV200, korkeus...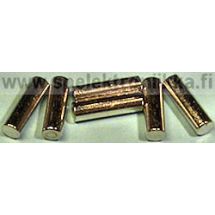 Tuote 102051. Pickup polepiece slug Kromatut teräspalat kitaramikrofoneihin. Kromatut teräspalat kitaramikrofoneihin missä käytetään suorakaidemagneettia mikrofonin alla. Ø 5mm...
Tuote 102025. Pickup polepiece screw Vintagetyylinen säätöruuvi mikrofoneihin POLESCREW NICKEL. Vintagetyylinen säätöruuvi mikrofonirunkoihin missä on kavennus magneettireiässä, vintage...
Kromatut teräspalat vintage humbuckereihin 4.8mm...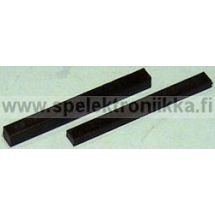 Tuote 102028. Muoviset korotepalat humbucker mikrofonien alle. Plastic shim for humbucker bobbin. Sizes:
3 x...
Tuote 109434. Humbucker pohjalevy, 50mm jaolla BABRONZE50F. Stanssattu messingistä. German Silver ei enään valikoimissa.
Humbucker baseplates, made...