ALNICO 5 flat top magnets for guitar pickups
Main Page > Parts for musical instruments > Machineheads and other parts OL / SPG / Boston > Guitar pickup magnets
Tuote 102040. ALNICO 5, magneetti Ø 5mm (0.195") ALNICO 5 flat top magnets for guitar pickups soveltuvat ylä, ala ja keskimikin magneeteiksi (FRM). Vintage non staggered alnico 5 polepieces, Ø 0.195". Guitar pickup magnets sold individually. Näissä vain tehtaan varastointimagnetointi, eli käytännössä "tyhjiä". Lataus onnistuu helposti rare earth magneettien avulla. Esimerkiksi kahdella tällaisella: Tuote 107593. Lisäksi hyödyllinen kapistus napaisuuksien määrittämisessä on kompassi: Tuote 102053.
Alnico magnets are supplied as "uncharged", those can be charged by using rare earth magnets.
See also
Vintage pushback 18 awg stranded wire !!!
Tuote 113528. Mikrofonin fiiberisarja (prespaani) yksikelaiselle 50mm TC black. Alaosa 2mm, yläosa 1.6mm. Single-coil flatwork set, includes top and bottom. 50 mm...
Product 104678. Guitar microphone winding wire, pickup wire AWG43 / 0.055 mm yarn  approx. 25.3g / 1km, approx. 6 kohm / 1km.

One...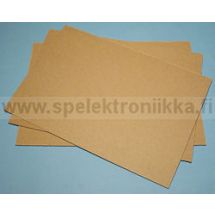 Tuote 102182. Ruskeat millikoon prespaanilevyt ("fiiberilevy") 210 x 300mm kitaramikrofonien rakenteluun. Prespaania on kohtuullisen helppo leikata ja sen sähköneristyskyky on...
Vintage pushback 18 awg stranded wire !!!