ALNICO 5 flat top magnets for guitar pickups
Main Page > Parts for musical instruments > Machineheads and other parts OL / SPG / Boston > Guitar pickup magnets
Tuote 102040. ALNICO 5, magneetti Ø 5mm (0.195") ALNICO 5 flat top magnets for guitar pickups soveltuvat ylä, ala ja keskimikin magneeteiksi (FRM). Vintage non staggered alnico 5 polepieces, Ø 0.195". Guitar pickup magnets sold individually. Näissä vain tehtaan varastointimagnetointi, eli käytännössä "tyhjiä". Lataus onnistuu helposti rare earth magneettien avulla. Esimerkiksi kahdella tällaisella: Tuote 107593. Lisäksi hyödyllinen kapistus napaisuuksien määrittämisessä on kompassi: Tuote 102053.
Alnico magnets are supplied as "uncharged", those can be charged by using rare earth magnets.
See also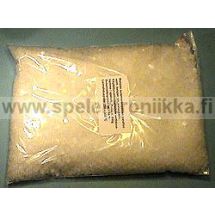 Tuote 102019. Parafin for guitar pickups, melting point 54 - 58 ºC. 500g polybag, more info in our web pages in "speksit". Kitaran mikkien parafiini, matalan...
Vintage pushback 18 awg stranded wire !!!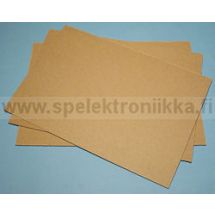 Tuote 102182. Ruskeat millikoon prespaanilevyt ("fiiberilevy") 210 x 300mm kitaramikrofonien rakenteluun. Prespaania on kohtuullisen helppo leikata ja sen sähköneristyskyky on...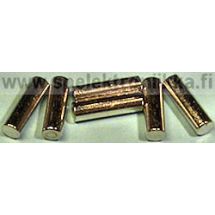 Tuote 102051. Pickup polepiece slug Kromatut teräspalat kitaramikrofoneihin. Kromatut teräspalat kitaramikrofoneihin missä käytetään suorakaidemagneettia mikrofonin alla. Ø 5mm...
Vintage pushback 18 awg stranded wire !!!
Product 104678. Guitar microphone winding wire, pickup wire AWG43 / 0.055 mm yarn  approx. 25.3g / 1km, approx. 6 kohm / 1km.

One...
Tuote 113532. Mikrofonin fiiberisarja (prespaani) yksikelaiselle 52mm ST black. Alaosa 2.4mm, yläosa 1.6mm. Single-coil flatwork set, includes top and bottom. 52 mm...