AD623ARM SMD Instrumentation Amplifier MSOP-8 Single supply Rail to Rail Output
Main Page > Electronic components etc ... > Aktiivikomponentit, IC -piirit, transist > IC circuits with legs > A
Tuote SDR24324. AD623ARM SMD Instrumentation Amplifier MSOP-8 Single supply Rail to Rail Output.
See also
Tuote 113181. Kytkentäjohto asennusjohto kaiutinjohto punamusta (CCA) 2 x 0.22 mm². Oivallinen myös virtakaapeliksi monenlaisiin sovelluksiin. Tuotekuva on yleiskuva. Sama...
Tuote 112798. ULN2003. Array. Darlington NPN driver 50V 0.5A. 7 x driver.
Monikäyttöinen aine vaikkapa perhokalastajan kahluuhousujen reikienkin toteamiseen jne ... (Pohjolan perhokalastaja 3/2022).
Tuote 113358. 74HC595 piiri DIP jalallinen 8-bit shift registers with output latches, three-state parallel outputs.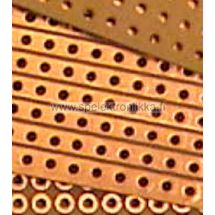 Tuote 109092. Nauhakuparoitu piirilevy nauhakuparoitu reikälevy 100 x 160 mm. Pertinax. Kytkentälevy.
Tuote 113512. Pintaliitosadapteri SO8 SSOP8 ym ... Toisella puolella eri padit, monikäyttöinen adapteri jos täytyy saada pintaliitoskomponentti "jalalliseen" käyttöön. Läpikuparoidut...
Tuote SND24719. NodeMCU V2 ESP8266 Development Board - CP2102. Kuten nimi sanoo, tuote ei ole valmis laite tuote on komponentti.