Neutrik jakki, pitkällä kierteellä, hihnanupilla KJEP63CR
Main Page > Parts for musical instruments > Machineheads and other parts OL / SPG / Boston > Contorl plates jack plates jacks
Tuote 103947. Neutrik jakki, pitkällä kierteellä, hihnanupilla KJEP63CR. Pitkällä kierteellä oleva 6.3 mm Neutrik jakki. Voidaan johdottaa joko stereoksi tai monoksi, asennusreikä 12 mm. Kierreosan pituus 32 mm. 0.25" jack for guitar with long threads, 1.26". Can be wired as mono or stereo.
See also
Tuote SDC23386. DC pistoke plugi liitin adapteri 2.5mm / 5.5mm ruuviliitoksella. 2.5 / 5.5mm. Helpottaa asennuksia huomattavasti. Helppo tehdä liitoksia ilman tinailuja. Oivallinen...
Tuote 115114. Siirtokuvakalvo etulevykalvo Decal Light Pro Laser A4 Clear 3kpl. Paksu kunnollinen taustapaperi. Sama valmistaja kuin USA letter kokoinen, mutta A4. Sama...
Tällä potikalla on se hieman pidempi kierrepituus 0.375".
Tuote 110568. Potentiometri kytkimellä, kuvasta poiketen ei nuppia. 10k logaritminen.
Tuote 104084. Puolipallokanta panhead musta puuruuvi 2517BKWR. 2.5 x 17 mm, wood, BK, round. Soitinrakentelussa käytettäviä ruuveja. Mounting...
Tuote 107256. Tallapalat Wilkinson WTB TC -tyyliseen tallaan, setti 3 kpl. Bridge saddles, brass, for B-WTB bridges. Set of 3 staggered compensated Telecaster saddles. Allows...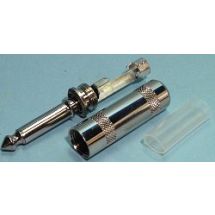 Tuote 100443. Suora monoplugi 6.3mm, cut off switchillä. Tällaisia plugeja puhutellaan mm. myös nimellä silent plug. Eli tämä plugi on suunnattu kitaransoittajille jotka...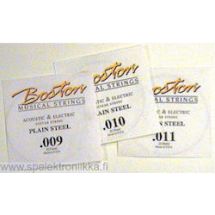 Tuote 103088. Sähkökitaran varakieli, teräs 0.010. Boston Musical Products. Paksuus n. 0.25 mm.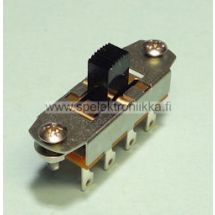 Tuote 101890. Mustang mikrofinvaihtokytkin malli 1 Mustang switch pitkät jalat. Ruuvit ja mutterit mukana. Mustang pickup switch. Piirustuksessa...