Joystick moduuli KY-023 arduinoon tai muualle, analoginen 10k trimmerit, painonappi
Main Page > Arduinot moduulit jne ...
SJS20358. Joystick arduinoon tai muualle, analoginen 10k trimmerit, painonappi.
Youtube video connecting instructions.
See also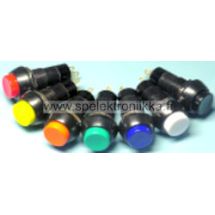 Tuote 111073. Painonappi painike PPN2 vihreä 1 x OFF-ON (mom). 250 VAC / 1A. Asennusaukon koko n. 12 mm, laippa n. 15 mm, nupin halkaisija n. 12 mm.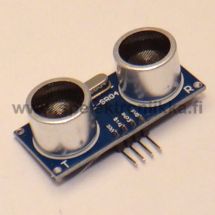 Tuote SLT22165. Ultraäänianturi ultraääni etäisyysanturi HC-SR04 Arduino tai joku muu ohjaus. Katso myös kiinnityskehys Tuote SKH24229. You tubessa vaikkapa tämmöinen...
Tuote SRD21861. NANO V3.0 kehitysalusta Arduino yhteensopiva klooni. Käyttöjännite 5V. Sarjaliikennepiirinä CH340G ei FT232RL. Netistä löytyy ajureita tuolle...
Tuote SNR21862.  UNO R3 kehitysalusta Arduino yhteensopiva kopio, USB johto mukana. Windows voi vaatia USB2.0-serial CH340/CH341 ajurin, löytyy helposti netistä. Lisäksi...
Tuote 109061. Pienen mustan moninapaliittimen naaras kontakti. Moninapaliitin kontakti. Tähän saa kohtuudella puristettua maksimissaan n. 0.3 neliön johdon.
Tuote 109047. Moninapaliitin pieni musta r. 2.54 mm, 1 -napainen. Piikkirimaan tai vastakappaleeseen, ei polarisoitu. Kuva suuntaa-antava yleiskuva. Sisälle tuleva kontaktiosa...
Tuote SLN22163. L298N moottoriohjain DC- ja askelmoottoreille max. 25 W. Tätä voi ohjata vaikkapa arduinolla ja muillakin tietokonejutuilla tai sitten vain manuaalisesti jos...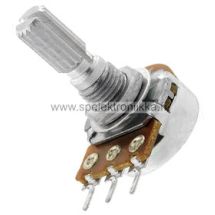 Tuote 107057. Monopotentiometri 10 kohm lineaarinen, metallia. Booritettu akseli 6mm, tehonkesto 100mW, jännitekesto 20VDC tai 150 VAC, rungon halkaisija n. 17 mm, paksuus...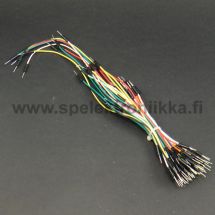 Product 114890. Assortment of jumping wires jumping wires for test circuit board Multicolored jumping wires of different colors for the test connection base approx. 65...