Helping hands tool for soldering
Main Page > Electronic components etc ... > Työkalut / juottaminen > Apuvälineet juottamiseen
Product 107631. Auxiliary stand for tin soldering, helping hands ... third hand model A. Good magnification 3x in the magnifying glass and "optics" right glass !!! Two jaws, articulated. Desktop model. Depending on the model in stock, the magnifying glass frame may be clear or black.
For precision demanding work, magnifying glass auxiliary stand solders soldering tin tin electronics fly tying stamps stamps scale models crafting auxiliary stand crafts. We also have magnifying glasses, magnifying glasses and magnifying glasses.
See also
Tuote 113351. Soldering iron stand for soldering iron holder.  Includes sponge + base + spring.
Tuote 109953. Hauenleukajohtosetti 10 kpl johtoja pituus n. 55 cm päissä hauenleuat eri värejä. 2 punaista, 2 mustaa, 2 vihreää, 2 keltaista, 2 valkoista johtoa, kummassakin...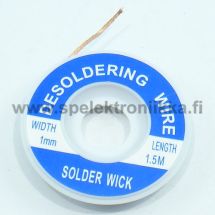 Tuote STN22206. Tinaimusukka SP1515 tinaimunauha 1.5mm pituus 1.5m. Tiheäpalmikkoinen hyvän imukyvyn omaava sukka.
LED lampun saa irti ja voi käyttää tavallisena lamppuna !!!
Tuote 107518. Puhdistussieni varasieni telineeseen kolvitelineeseen malli 1 n. 40 x 60 mm. Mallia "kuivana ohut märkänä paksu". Toimitetaan ohuena.
Tuote 105676. Analoginen juotosasema 230VAC / 48W, lämpötilasäädöllä, n. 150 - 450°C. Soveltuu oivallisesti jalallisten komponenttien tinailuihin ja tietenkin pintaliitostenkin...