74HC08 piiri DIP jalallinen 4 x AND
Main Page > Electronic components etc ... > Aktiivikomponentit, IC -piirit, transist > IC circuits with legs > Logiikkapiirit > 74HC -sarja
Tuote 113278. 74HC08 piiri DIP jalallinen quad 2-input AND gate.
See also
Tuote 113400. 74HC4511 piiri DIP jalallinen BCD to 7-segment decoder.
Tuote 113276. 74HC04 piiri DIP jalallinen hex inverter.
Tuote 113311. 74HC163 piiri DIP jalallinen synchronous 4-bit binary counter with synchronous clear.
Tuote 113275. 74HC02 piiri DIP jalallinen quad 2-input NOR gate.
Tuote SGD323824. GY-61 ADXL335 Module 3-axis Digital Gravity Angle Sensor Tilt Angle Module. Arduino ihmisille. Käyttöjännite 3 - 5VDC, analogiset lähdöt. Lue takuuehdot.
Tuote 113274. 74HC00 piiri DIP jalallinen quad 2-input NAND gate.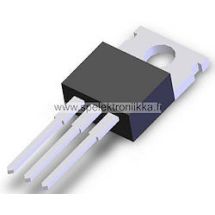 Tuote 109352. Regulaattori 7805 5V 1A TO-220.
L7805 MC7805...
Tuote 105768. Punainen 7 -segmenttinäyttö yhteisanodi (C.A.) 14.2mm. Varastossa oleva tyyppi jokin seuraavista SA56 / HDSP5301 / W1561A. Ulkomitat 12.7 x 19 mm. IC...