74LS393 piiri DIP jalallinen 2 x 4-bit binary counter
Main Page > Electronic components etc ... > Aktiivikomponentit, IC -piirit, transist > IC circuits with legs > Logiikkapiirit > 74LS -sarja
Tuote 113266. 74LS393 piiri DIP jalallinen dual 4-bit binary counter.
See also
Tuote 111013. Maadoitusranneke antistaattinen 4mm banaanijohto nepparilla. Säädettävä maadoitusranneke 4 mm banaaniliitin joka kiinnittyy hauenleukaan.
Irrotettava...
Tuote 107052. Pystyelko 1F / 5.5V 7x20mm, r.5mm...
Tuote 106966. Pystyelko 100 uF/25V 105 °C...
Tuote 109036. BC548 NPN 30V 0.1A 0.5W TO-92.
Tuote 113003. 4556 CMOS piiri DIP jalallinen binary to...
Tuote 113173. 74LS74 piiri DIP jalallinen dual D positive edge triggered flip-flop with preset and clear.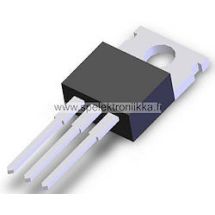 Tuote 109883. Regulaattori 7815 15V 1.5A TO-220.
Tuote 114185. Komponenttien pokkaustyökalu vastuksille ym. vaakamallin komponenteille. Todella kätevä ja helppokäyttöinen työkalu kun esim. esikäsittelee jalallisia...
Tuote 113230. 74LS161 piiri DIP jalallinen synchronous 4-bit binary counter with asynchronous clear.