DS1302 Trickle Charge Timekeeping Circuit DIP8 kotelo
Main Page > Electronic components etc ... > Aktiivikomponentit, IC -piirit, transist > IC circuits with legs > D
Tuote 114067. DS1302 Trickle Charge Timekeeping Circuit DIP8 kotelo.
- Real-Time Clock Counts Seconds, Minutes, Hours,
Date of the Month, Month, Day of the Week, and Year with Leap-Year. Compensation Valid Up to 2100
- 31 x 8 RAM for Scratchpad Data Storage
- Serial I/O for Minimum Pin Count
- 2.0V to 5.5V Full Operation
- Uses Less than 300nA at 2.0V
- Single-Byte or Multiple-Byte (Burst Mode)
- Data Transfer for Read or Write of Clock or RAM Data
- 8-Pin DIP
- Simple 3-Wire Interface
- TTL-Compatible (VCC = 5V)
See also

Tuote 105459. Pintaliitos vastuslajitelma SMD VASTUSPUUHAPUSSI 1206 kotelo. !!! NYT SAATAVISSA !!!
SMD...
Tuote 109448. Paristonpidin piirilevylle vaaka 2016 2025 2032 litium nappi paristoille. Tähän mahtuu myös 2 kpl 2016 paristoa päällekkäin jos on tarvetta. Pinniväli...
Tuote 114861. IC piirin kanta 8 napainen jousikanta. Kuva suuntaa-antava.
Tuote SCP20908. IC piirin jousikanta 28 nap. kapea lev. 7,62 mm. Kuva suuntaa-antava.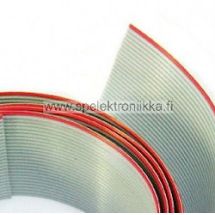 Tuote 109126. Nauhakaapeli lattakaapeli r. 1.27 mm harmaa 20 napainen.
Tuote SKH20832. Kellokide 32.768 kHz TC-38.