Nakertaja nakertajasta otelautanauhan guitar fret "Tang Nibbler / Tang Nipper"
Main Page > Parts for musical instruments > Machineheads and other parts OL / SPG / Boston > Fretwires and tools Bender, Tang nibbler ...
Tuote 100104. NAKERTAJA, soveltuu monimuotoisten reikien tekemiseen ohueen muoviin, peltiin jne...
Aloitusreiän koko n. 8mm, max. 1mm pelti.
------
Pienellä puuhastelulla tästä saa myös otelautanauhan jalan katkaisutyökalun eli "Tang Nibblerit / Tang Nipperit". Ei suositella rosterille eikä kellopronssille.
Joku oli laittanut nettiin seuraavat kuvat.
Hio nauhan kruunuosalle poikittainen kolo pihtien päässä olevaan laippaan esim. pienoisporakoneella johon olet kiinnittänyt hionta/leikkauslaikan. Kruunun toinen puoli sopii sitten tuohon muotoilemaasi koloon ja pystyt leikkaamaan nauhan jalasta osan pois.
Oikeasti näitä leikkureita ei ole tarkoitettu ko. asiaan, mutta ulkomaisilla keskustelupalstoilla on paljon tyytyväisiä käyttäjiä ko. viritelmälle.
HUOM !!! Näitä ei luonnollisestikaan oteta takaisin mm. syillä "ei toimi niinkuin pitäisi jne ... " eli ei anneta koekäyttöön. Jos ovat täysin käyttämättömät avaamattomassa pakkauksessa, silloin tietenkin.
See also
Katso myös suositumpi samanveroinen kromiruuvi !
Aito ALPHA ei klooni kuten nuo vihreät...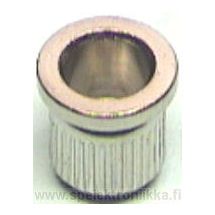 Tuote 104625. Kieltenpujotusholkki KPH22CR kromi, string bushing. Mitat lisätiedoissa. Boston Musical Products tai OL Guitarparts Korea.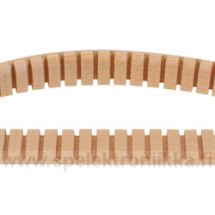 Tuote 102278. Kerfed lining, akustisen kitaran lovettu tukirima toisen puolen päät pyöristetty.
720 x 5 x 19mm.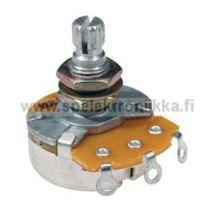 Tuote 109806. Ultra 24mm lineaarinen kitarapotentiometri B500k/24/10/lin. "Ultra made in Korea", potentiometrit kitaroille ja vahvistimille. A -merkintä on logaritminen...
Tuote SKL20414. Kieltenohjain SKL20414CR kromi korotus 5 mm. Korotus 5 mm. Korotusholkin halkaisija 5 mm. Kielenpidin n. 7.2 x 12.2 mm.
Tuote 101918. Vaihtokytkimen nuppi. VIPNUPBK, musta 3 ja 5 -asentoisten kytkinten nuppi, 3WAY-SW01:lle, 5WAYSW01:lle, sekä OL kytkimille. Millimitoitus.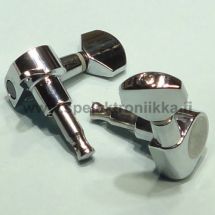 Tuote 104654. Virityskoneisto kitaralle SPG698CRL 6L, kromi, SPG / Boston. Virityskoneistosetti kuusikieliselle sähkökitaralle 6L. Välitys 16:1. Tuning...
One of the most popular lengths and models in our selection !!!