Polko polyesterikondensaattori 47 nF/250V, r. 5 mm
Main Page > Electronic components etc ... > Passive components, resistors, capasitors > Kondensaattorit polkot elkot kerkot jne > Polyesterikondensaattorit polkot rasteri
Tuote 106825. Polko polyesterikondensaattori 47 nF/250V, r. 5 mm
See also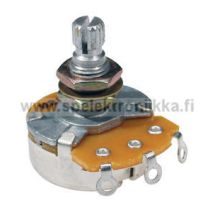 Tuote 109807. Ultra 24mm lineaarinen kitarapotentiometri B250k/24/10/lin. "Ultra made in Korea", potentiometrit kitaroille ja vahvistimille. A -merkintä on logaritminen...
Product 115380. Belt buckle / strap with lock SP1101CR chrome. Activities like the Schaller and Boston locks. The newest alternative to these styles, our own model. Flange...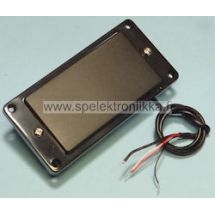 Tuote 104615. Humbucker OL® All Position Passive Steel Bar Artist -series Black. "Aktiivimikki" kuoressa passiivimikki. Musta...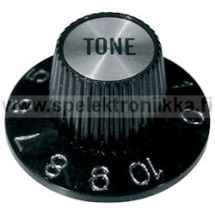 Tuote 101855. Potentiometrin nuppi. TC/SG tonenuppi black/crome TNUPTBC.
Copper tape for RF shielding, extremely useful for guitars.
Tuote 106828. Polko polyesterikondensaattori 82 nF/100V, r. 6 mm 10%
Tuote 109728. Muovisatula WHITE 43 mm, 6 -kielinen USA F -style ST -series. Width 43 mm, thickness 3.5 mm, max. height 5 mm.
Tuote SLM20566. Metallinuppi crome 18 x 18.5 FDNUPCR ruuvikiinnitys. Full Dome, ruuvikiinnitys, ruuvi on kuusiokanta tai talttapää, riippuen nupin mallista. Jos kuusio...
Tuote 103373. GST648LBR, vaalean ruskea topattu kitarahihna, aitoa nahkaa. "Shoelace" nauhakoristeet. Leveys 63mm, paksuus 8mm. Pituus säädettävissä 125cm - 140cm. Mitat...