Care products and accessories for instruments
Main Page > Accessories for music > Care products and accessories for instruments
Tuote 101957. Boston guitar maintenance kit polish and cloth 60ml spray bottle. Soittimien lakkapinnoille  kitaroille, bassoille, ukuleleille kiillotus / puhdistusaine spray...
Tuote 112104. Dr. Ducks Ax Wax & String Lube. Ax Wax & String Lube, organic cleaner polishing moisturizer, 4 oz. flip top bottle As used by these manufacturers on...
Tuote 115328. Dunlop 01 fingerboard otelaudan puhdistus -ja hoitoaine. "01" Cleaner & Prep fingerboard polish, 4 oz. bottle with pump spray. Perfectly balanced for...
Tuote 115329. Dunlop 02 otelaudan hoitoaine, ei saa käyttää vaahteraotelaudalle.  "02" Deep Conditioner fingerboard polish, 2 oz. bottle with applicator top.
Prevents...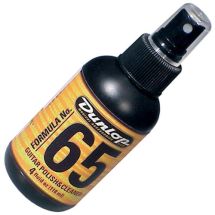 Tuote 115330. Dunlop 654 kitaran puhdistusaine Dunlop Formula 65.  Formula 65 guitar polish, 4 oz. pump spray bottle. Cleans totally and quickly. Restores any finish to...
Tuote 115338. Dunlop 6554 Ultimate Lemon Oil Fretboard 65 ei vaahteraotelaudalle. Fretboard 65 Ultimate Lemon Oil fingerboard polish, bottle with dab-o-matic applicator...
Tuote 115339. Dunlop 6582 kitaran kielten puhdistusaine Ultraglide 65. Formula 65 Ultraglide string cleaner & polisher, 2 oz. bottle with applicator top.
Shields...