Laturit 12 - 24 VDC, USB jne ...
Main Page > Electronic components etc ... > Verkkolaitteet, akut, paristot, pitimet. > Laturit 12 - 24 VDC, USB jne ...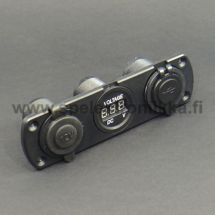 The product SMN23510. Multifunction panel for boat quad IP44 protection outputs Tup.syt./Voltage/USBx2. Digital display for voltage (red). USB outputs The total maximum...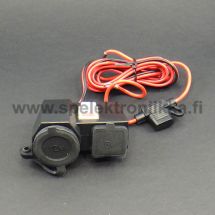 Tuote SMN23517. Monitoimipaneeli moottoripyörään mönkijään IP44 suojaus lähdöt Tup.syt./USBx2. Tankoon (putkeen) tai tasaiseen pintaan kiinnitettävä. USB -lähdöt...
Tuote 105582. USB autolaturi virtalähde in 12 - 24VDC out 5VDC max. 1000mA. Lähtöliitin micro USB.
Tuote 22157. Dual USB car charger power supply short model in 12 VDC out 5V USB 1 = 1A max USB 2 = 2.1A max. Maximum power 10.5W. Very short, sink into the lighter in...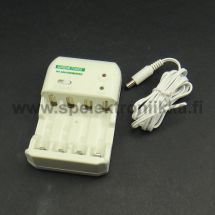 Tuote 101979. Mikroprosessoriohjattu akkulaturi AA ja AAA kokoisille NiCd ja NiMH -akuille. Autokäyttöön, veneeseen, mökille jne... missä vain on 12VDC saatavilla esim. akusta...