CTS 24mm kitarapotentiometri 250k log EP085 / CTS250-A51
Startsidan > Gitarrdelar gitarrtillbehör Instrumentbygge tillbehör > Gitarrdelar gitarrtillbehör OL / SPG / Boston > Potar > CTS potentiometrit kitaroihin
Tuote 103829. "CTS made in USA", CTS 24mm kitarapotentiometri 250k log EP085 / CTS250-A51, aidot CTS -potikat, uritetulla metallivarrella kitarakäyttöön. Tuumajako akselin hammastuksessa, "push to fit" nuppejamme joutuu "modaamaan" asennusvaiheessa eri hammastusjaon vuoksi. Kaikki ruuvikiinnitteiset nuppimme sopivat. Varastoimme myös joitakin menevimpiä malleja tuumajakoisia nuppeja.
Genuine CTS pots, with split metal shaft for guitars. Standard length bushing .375", 3/8" diameter.
Katso myös
Monisäikeistä laadukasta pushback vintagelankaa !!!
Tuote SKL20414. Kieltenohjain SKL20414CR kromi korotus 5 mm. Korotus 5 mm. Korotusholkin halkaisija 5 mm. Kielenpidin n. 7.2 x 12.2 mm.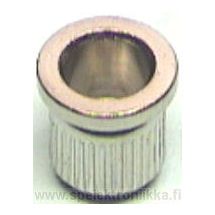 Tuote 104625. Kieltenpujotusholkki KPH22CR kromi, string bushing. Mitat lisätiedoissa. Boston Musical Products tai OL Guitarparts Korea.
Tuote 109789. Nuppi, LB-360-CR kromi, sopii sekä millikoon että tuumakoon vipuihin. Tele tyylinen mikrofoninvaihtokytkimen nuppi. 360 -sarja "tynnyri" TC -tyylisille kitaroille.
Tuote 104398. Monorunko 6.3mm, Switchcraft, ei kytkintä. Switchcraft jakki 6.3 mm, mono tai stereo, kierreosan halkaisija 9.4 mm. Switchcraft jack 0.25" thread outer...
Tuote 103053. Kaulan kiinnityslevy kaulalevy KAULE1CR, kromi. Neck joint plates. Laadukas, hyväpinnoitteinen ja tukeva Boston Musical Products. Kaulalevy. n. 51 x...
Tällä potikalla on se hieman pidempi kierrepituus 0.375".
Tuote 107456. Jakkilevy, ovaali syvennyksellä JAKLE1CR kromi. Jackplate for guitars. Oval recessed. Screw holes 2 x flat or oval head dia. 3.5 mm (0.138"). Jack hole...