Boston CAPO-085 Ti, (kapo) kitaralle jousikuormalukitus, titanium
Main Page > Accessories for music > Strings, capo's, slide tubes
Tuote 113509. Boston CAPO-085 Ti, (kapo) kitaralle jousikuormalukitus, titanium.
Spring loaded capo for acoustic or electric guitar, titanium.
The Boston BC-85 capo is an essential accessory for guitar players. Not only does it transpose the open strings of your guitar, it can also be used to influence the tone colour.
The pressure of the spring has been carefully set to make sure the capo squeezes tight enough, but not so tight that it detunes your guitar. The rubber padding of the grips protects your guitar from damage and also provides enough pressure on each of the strings.
The Boston BC-85 lets you fit/remove the capo in a flash, even mid-song.
The durable die casted construction gives you a good, well-built capo that will last.
- suitable for western- & electric guitar
- with spring
- titanium
- protective rubber
- sturdy and lightweight
- quick action, great intonation
See also
Tarkka kopio OAK kytkimestä.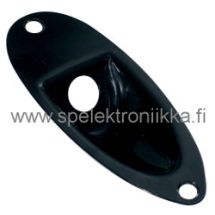 Tuote 109256. Strato jakkilevy, ST -tyylinen JAKLE4BK musta. Jakkilevy kitaralle. ST -tyylinen. ST -style jackplate. Screw holes 2 round head, dia. 4.9 mm (0.193"). Jack...
Tuote 103221. Kitaran pleksilevy aihio valkoinen ("MOP") helmiäinen (whitepearl/white/black) 4ply, P/W/B/W4PLYBIG. 290 x...
Tuote SWL21425. Wilkinson® WVT Tele neck pickup Alnico 5 Crome WVTNCR. Wilkinson® WVTNCR. Wilkinson's copy of 60's Tele neck pickup. Screws and springs included.
Tuote 109252. TC -tyylinen kontrollipaneeli TELEKPCR kromi. TC -tyylinen kontrollipaneeli. TC -style control plate. Screw holes 4 x flat or oval head, dia. 3.7 mm (0.146"), pot...
Tuote 108950. Slide putki "pullonkaula" pyrex lasia 15x20x65mm. Ohutsormiselle soittajalle.
Tuote 109088. Dobron (resonaattorikitara) kielet. Martin, Gauges 16-18-26-36-46-56.
Tuote 101601. Juotoskolvi 30W pienempään tinailutarpeeseen. Tinauskolvi 30W 230VAC. Johto n. 1.3m. Riippuen varastossa olevasta mallista, pieni "taskumallin" pöytäteline mukana...
Tuote SKL22076. Kieliurallinen valmis  kaareva luusatula 43 x 4.2/4.7 x 3.3 mm BSRM-6TCST. Mitat nimellismittoja. Tämä satula sopii monenlaisille kitaroille mm. ST...