Guitar pickup switch 2 x 3 ST style OL3WAYSW
Main Page > Parts for musical instruments > Machineheads and other parts OL / SPG / Boston > Pickup switches for guitar pickups > Boston / SPG / OL switches for guitars
Product 101902. Guitar pickup switch 2 x 3 ST style OL3WAYSW. OL3WAYSW, high quality sturdy cast body original Korean shotgun switch with shotgun contacts. The contacts are pre-shorted at the factory for special applications. During commissioning, cut off the short-circuit loops with the side cutters if you are making normal guitar connections. Screws and black knob included. The knobs in our VIPNUP series are suitable for this switch, which is also available in different colors. Grounding lugs on the frame. Note! This is not a switch made with PCB contacts, that PCB protects the mechanics. (DO NOT OPEN THE SCREWS .. the bows and shots will fly out). The common poles are 5 and 4. Contacts take place:
5> 6/5> 7/5> 8 as well as
4> 1/4> 2/4> 3.
Quality pickup switch with die cast body, 5 and 4 are common contacts. Grounding contacts for body. Mounting screw spacing 41.27mm (1.625 "). 3mm thread in mounting holes. Body depth 28.0mm (1.102"). Lever: 1mm x 3.4mm (0.039 "x 0.134"), screws and black Knob.
Lastly, a close-up of the mechanics of the OL microswitch switch after the cover plate has been removed.
Last picture shows Mechanics of OL switch, cover removed.
See also
Tuote 107456. Jakkilevy, ovaali syvennyksellä JAKLE1CR kromi. Jackplate for guitars. Oval recessed. Screw holes 2 x flat or oval head dia. 3.5 mm (0.138"). Jack hole...
Tuote 104051. Puolipallokanta musta millikierre 3012BKMR. 3 x 12 mm, metric, BK, round. Soitinrakentelussa käytettäviä ruuveja. Mounting...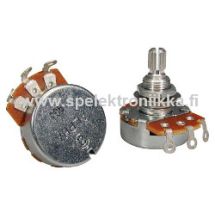 Tuote 114176. ALPHA 24mm kitarapotentiometri bushing 8 mm ALP500kB44/lin millikoko. Useiden soitinvalmistajien käyttämä potentiometri. HUOM !!! Mukana 2 mutteria + prikka...
Tuote 103053. Kaulan kiinnityslevy kaulalevy KAULE1CR, kromi. Neck joint plates. Laadukas, hyväpinnoitteinen ja tukeva Boston Musical Products. Kaulalevy. n. 51 x...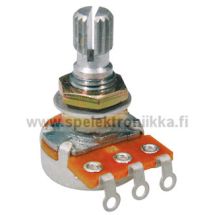 Tuote 101837. "Ultra made in Korea", potentiometrit kitaroille ja vahvistimille. "Center click" potentiometrit, lineaarisia = B...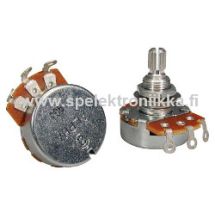 Tuote 114175. ALPHA 24mm kitarapotentiometri bushing 8mm ALP500kA43/log millikoko. HUOM !!! Mukana 2 mutteria + prikka helpottamaan pleksiin asennusta. Merkintä B...
Tuote 101929. Vaihtokytkimen nuppi. LB-360, musta 3 ja 5 -asentoisten kytkinten nuppi, DM30 ja DM50 -kytkimille. 360 -sarja "tynnyri" TC -tyylisille kitaroille. Millimitoitus.
Tuote 102969. Muovisatula musta 42 mm, 6 -kielinen kitara G6SATUB. Plastic pre slotted saddle to 6 -string guitar. Width 42 mm, thickness 3.5 mm, max. height 5.5mm (1.65x0.138x0.217").
Tuote 101918. Vaihtokytkimen nuppi. VIPNUPBK, musta 3 ja 5 -asentoisten kytkinten nuppi, 3WAY-SW01:lle, 5WAYSW01:lle, sekä OL kytkimille. Millimitoitus.