Color-changing orange-yellow translucent chameleon tape
Main Page > Ossilehti Fishing® fly fishing accessories > Uistinteipit, vieheteipit, vaapputeipit
Product 110056. Color-changing orange-yellow translucent chameleon tape. Translucent / transparent in which way the thing wants to express the color of the mounting surface, however, does not seem terribly much reflections. The tape shades the color from orange to yellow "calmly". Lots of different shades can be seen. Happy tape this too. lev. 25 mm, sold in pieces of approx. 1 m. Always test the suitability of the tape for the varnish you use. Wobble tape ice tape lure tape attention tape warning tape decorative tape decoration tape.
See also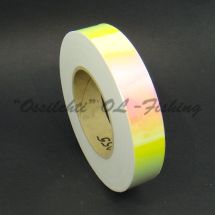 Product 110055. Color-changing pink-orange-yellow translucent chameleon tape. The color of the thin, translucent mounting surface affects the colors of the tape. On...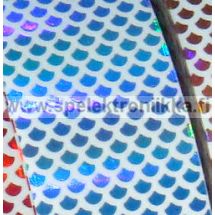 Tuote 102483. Uistinteippi vieheteippi vaapputeippi sininen malli 58 FULL 1m. Sininen joustava suomukuvioinen vieheteippi, läpikuultava, liimapinta takana. Testaa aina...
Tuote 110065. Vieheteippi, uistinteippi hologrammiteippi FL Chartreuse lev. 25 mm. Tämän teipin pinta muodostuu pienistä pisteistä jotka muuttavat väriään valon...
Tuote 22838. Color-changing chameleon tape for example to R / Y / G coloured ice lures bright orange-red, well ... this color should be something like that. Good color...
Tuote 110054. "Väriävaihtava" melkein kuin Pearl muttei kuitenkaan läpikuultava teippi 25mm, no niin ... tulihan se teipin väri määriteltyä. Aivan sikamahtavan näköinen...
Item 22839. Color-changing chameleon tape for ice lures bright yellowish slightly greenish FL ... and this was then a saying which propably describes this tape. Slightly...