Color-changing pink-orange-yellow translucent chameleon tape
Main Page > Ossilehti Fishing® fly fishing accessories > Uistinteipit, vieheteipit, vaapputeipit
Product 110055. Color-changing pink-orange-yellow translucent chameleon tape. The color of the thin, translucent mounting surface affects the colors of the tape. On a white background, the tape changes color from pink to orange-yellow and yellow to even almost green-yellow, depending on how light hits the surface of the tape. Happy tape. lev. 25 mm, sold in pieces of approx. 1 m. Always test the suitability of the tape for the varnish you use. Wobble tape ice tape lure tape lure tape attention tape warning tape decorative tape decoration tape spoon tape.
See also
Tuote 114813. Color-changing chameleon tape for example to R / Y / G coloured ice lures bright red, Good color for R / Y / G traffic light-colored ice lures, for example. There...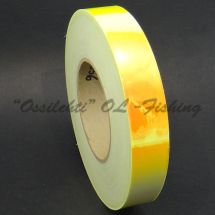 Product 110056. Color-changing orange-yellow translucent chameleon tape. Translucent / transparent in which way the thing wants to express the color of the mounting surface, however, does...
Tuote SVR22842. Väriävaihtava metallinhohtoinen Kulta-viher-kelta-puna pilkkuteippi. Vähän kuin kimalleteippi ja holoteippi yhdessä ja lisäksi vielä värinvaihto ominaisuus. Hyvin...
Tuote 110053. Väriävaihtava kameleontti metallinhohtoinen vihreäpohjainen teippi, näin kait tästä täytyy sanoa. Hieman ehkä myös sellainen vaikutelma kuin bensiiniä tai...
Tuote 110084. Prismateippi Kulta hologrammi 1m. Hologrammiset Prismateipit uistimiin vieheisiin koristeluun jne ... lev. 25 mm, myydään n. 1 m pätkissä. Testaa aina...
Item 22839. Color-changing chameleon tape for ice lures bright yellowish slightly greenish FL ... and this was then a saying which propably describes this tape. Slightly...