Viritysmittari kromaattinen automaattinen, ei napin nappia ...
Main Page > Accessories for music > Guitar tuners
Tuote 110102. Viritysmittari kromaattinen automaattinen, ei napin nappia ... Pitkälti samanlainen käyttää kuin Cherub WST-630G, mutta tässä näyttö pystyasenossa.
BTU-150 tunerin lyhyt oppimäärä
Chromatic clip tuner, with multi colour display, auto power on/off. The BTU-150 turns on automatically when clipped on the headstock, and switches off when you remove it. When your instrument is in tune, the backlit turns GREEN. When it is sharp, the backlit turns RED. The BTU-150 tuner will switch off automatically when not used for 5 minutes. Built-in piezo sensor for accurate tuning. Tuning range:A0(27.5Hz)~C8(4186Hz) Tuning mode: Chromatic Tuning precision:±1cent A4 range:440Hz Detection method:Clip Tuning mode: Auto Power supply:3V(CR2032)Lithium battery (included) Dimensions:53(W)x35(D)x27(H)mm Weight:21g
See also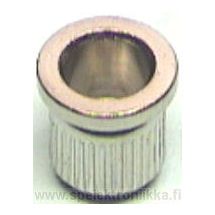 Tuote 104625. Kieltenpujotusholkki KPH22CR kromi, string bushing. Mitat lisätiedoissa. Boston Musical Products tai OL Guitarparts Korea.
Tuote 102858. Basso / keskiäänikaiutin BAKE44. Basso / keskiääni 4" / 30W max. 4 ohm. n. 0.4kg.
4 -kiinnitysreikää, reikien...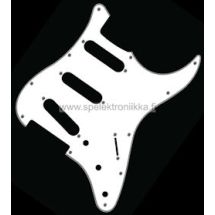 Tuote 104165. ST -tyylinen pleksi 3 x singlecoil white, black, white ST33WBW. White/Black/White 3ply. Kuvat suuntaa-antavia, värisävyt eivät toistu useinkaan tietokoneen...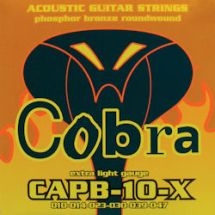 Tuote 101906. Akustisen kitaran teräskielet. String set acoustic, phosphor bronze wound extra light, 010-014-023-030-039-047. Neljä punottua kieltä.
Tuote 114951. Konserttiukulelen pussi / kantokassi ukulelelle ei pehmustettu.
Tuote 115296. Bassokitaran kielet, Cobra CBA40L 4 -kielinen 040-060-075-095 longscale. String set electric bass, nickelplated light, 040-060-075-095 longscale .
Tuote 101288. Valmiiksi koottu white pearl pleksilevy, missä 3 kpl yksikelaista mikrofonia, potikat, nupit, 5 -asentoinen kytkin.
Pre-wired pickguard...
Tuote 104547. "Ongenkohoantenni" otelaudan sivumerkki oranssi 10kpl. Sikasuositut otelaudan sivumerkit muovia. Pituus 50 mm, paksuus 2 mm. Nämä ovat oikeasti kilpailukohojen fluoresoivia...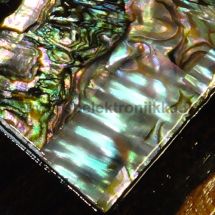 Tuote 102468. Laminoidut simpukkalevyt todella kauniita luonnossa. Valokuva ei tuo esille niiden monivärisyyttä valon osuessa levyn pintaan. Käsittele varoen, murtuu...