FLATHOOK54 tukikoukku litteä
Main Page > Parts for musical instruments > Machineheads and other parts OL / SPG / Boston > Parts for banjo and dobro OL / SPG / Boston
Tuote 102377. Litteä tukikoukku + mutteri. Banjolle. Flat bracket hook + nut. Length 54 mm
(2.13"), metric threads. For banjo.
See also
Tuote 102870. COMBO 12/4, myös instrumenttikaiuttimena käytetty basso / keskiääni kaiutinsarja, laaja taajuusalue , monien mielestä parempia comboon kuin instrumenttikaiuttimet. Käyttö yleisesti...
Tuote 102382. Banjon kalvon jännitysvanne, pyöreille tukikoukuille. Notched tension hoop, for round hooks. Inner diameter approx. 283 mm (11.1" ). Height 14 mm , width...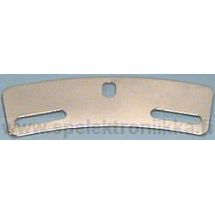 Tuote 102372. Mitat kuten tuotteella 102371, mutta ovaalinreiän keskikohta n. 6.5mm reunasta. Ruuvi mukana. As HBRACKET24, but oval hole approx. 0.25" from edge. Includes...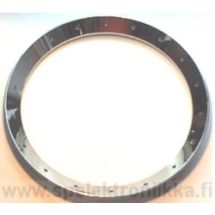 Tuote 102383. 18 -reikäinen flathead tonering. 18 -hole flathead tonering. Outer diameter approx. 279 mm (11"). Height 31 mm, width 20 mm. Inner diameter approx. 239...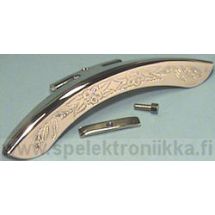 Tuote 102370. Banjon armrest, niklattu, kaiverruksin. Mukana myös kiinnikeruuvi ja tausta. Armrestissä on 24 -kiinnikkeiseen jakoon sopiva tuki. Siihen saa viilattua juuri...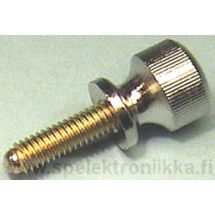 Tuote 102375. Resonaattorin kiinnitysruuvi irrotettavalla kierreosalla. Resonator thumpscrew, threadpart can be detached. 4 mm (0.16") threads.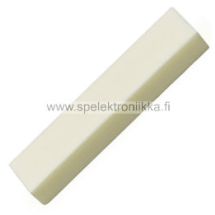 Tuote 109611. Satula ylä luuaihio banjolle, mandoliinille jne ... M-502 Hosco. Koko n. 5 mm x 8 mm x 37 mm.
Tuote 102374. L -tuki, tukikoukun kiinnitämiseksi kehykseen. L -shoe bracket, to hold bracket hook on banjo rim.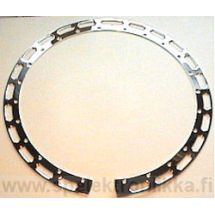 Tuote 102384. Resonaattorin reunus, 24:lle kiinnityskoukulle. Banjo resonator flange for 24 brackets. Inner diameter approx. 283 mm (11.1"). Width 26 mm. Nickel plated...