Klassisen (nylonkielisen) kitaran virityskoneisto Boston 128982
Startsidan > Gitarrdelar gitarrtillbehör Instrumentbygge tillbehör > Gitarrdelar gitarrtillbehör OL / SPG / Boston > Stämskruvar vintage Gitarrtillbehör OL / SPG / Boston
Tuote 104663. Klassisen (nylonkielisen) kitaran virityskoneisto Boston 128982, "3 -rivissä", avoin malli. Setissä virityskoneistot 1L ja 1R + ruuvit. Valkoisilla muovinupeilla ja nikkelimekaniikalla. Välitys 14:1. Tuning machine "3 on plate", open style. Stamped decoration on plates. Set includes machines 1L and 1R + screws. White plastic knobs and nickel plated plates. Gear ratio 14:1.
Katso myös
Tuote 109437. Akustisen (klassisen) kitaran muovisatula ivory ala SD829511. Blank plastic saddles for acoustic / classic guitars. Pituus 80mm, paksuus 2.8 mm, viisto n. 9.5...
Tuote 111101. Klassisen kitaran kielet, Cobra Normal Tension. String set classic, normal tension clear nylon trebles & silverplated basses .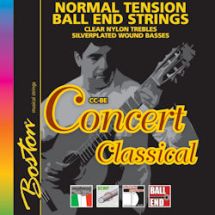 Tuote 102282. Boston CCBE klassisen kitaran kielet pallopää. String set classic, normal tension, clear trebles & silverplated wound basses, with ball ends.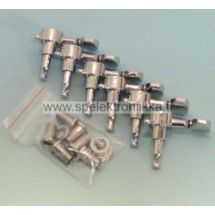 Tuote 109232. Kitaran virityskoneisto LC214CRL 6L kromi, ruuvit mukana. Edullinen hyvinkin suosittu malli. Samaista settiä myydään Ameriikan markkinoilla hieman kalliimmalla, laatu...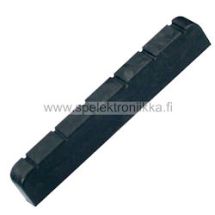 Tuote 102979. Grafiittisatula 6 -kieliselle kitaralle. Graphite pre slotted saddle to 6 -string guitar. Suora ja viistottu, straight and oblique,
52mm x...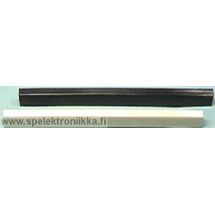 Tuote 103001. Satula-aihio muovia, viistetty ja hieman muotoiltu. Blank plastic saddle, slightly taper towards top. Width 108.50 mm, thickness from bottom 5.9 mm...