TALLA676CR, kompensoitu säädettävä wrapover talla, kromi
Main Page > Parts for musical instruments > Machineheads and other parts OL / SPG / Boston > Tailpieces for guitars OL / SPG / Boston
Tuote 105440. TALLA676CR, kompensoitu säädettävä wrapover talla, kromi. Kompensoitu sähkökitaran wrapover wraparound talla, setti sisältää tallan + 2 kiinnikettä ja ruuvit. Kuudelle kielelle. Korkeus ja etäisyys säädöillä. Wrapover bridge with correct string intonation, set includes tailpiece + posts and knurled bushings. For 6 -strings. String spread: 52.5 mm (2.07"). Post spacing: 82.0 mm (3.228"). Boston Musical Products tai OL Guitar Parts Korea, riippuen varastotilanteesta.
Tuotteesta voi irrota varastointipinnoitteen jäämiä ja väriainetta, pyyhi ja kiillota rievulla ennen asennusta.
Muistathan, että periaate, osta osat ensin, poraa reiät sitten pätee myös talloille. Nämäkään tuotteet eivät ole varaosia tietylle merkille tai mallille. Mitat noin mittoja.
See also
Tuote 104524. Otelautamerkki, simpukkajäljitelmä muovi 6mm OTEMUO6W. Fretboard dots, artificial pearl, plastic. W = white.
Tuote 109804. ST -tyylinen 3xsingle VALMIS 222 WBW, 3PLY pleksi. ST -tyylinen valmiiksi koottu pleksilevy, missä 3 kpl yksikelaista mikrofonia, potikat, nupit, 5...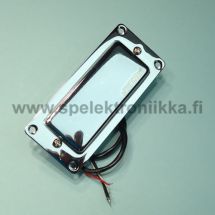 Tuote 110008. Wilkinson® WMH mini P90 humbucker Alnico 5 full crome. Narrow field humbuckers have a sound all of their own. The perfect cross between the high end...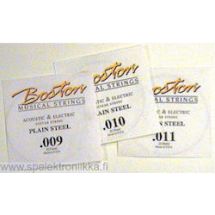 Tuote 103088. Sähkökitaran varakieli, teräs 0.010. Boston Musical Products. Paksuus n. 0.25 mm.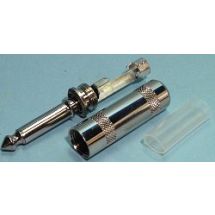 Tuote 100443. Suora monoplugi 6.3mm, cut off switchillä. Tällaisia plugeja puhutellaan mm. myös nimellä silent plug. Eli tämä plugi on suunnattu kitaransoittajille jotka...
Tuote 109442. Vaihtokytkin kahdelle mikrofonille TOGGSW2WHITE. Vaihtokytkin kahdelle mikrofonille, 3 -as. Peltikuori + maakorvake. Runko-osa, syvyys 18.0mm, leveys, 15mm, pituus...
Tuote SKT22078. Kitaran satulan luuaihio koko n. 52x10x6mm BNK-5210.
Tuote 115114. Siirtokuvakalvo etulevykalvo Decal Light Pro Laser A4 Clear 3kpl. Paksu kunnollinen taustapaperi. Sama valmistaja kuin USA letter kokoinen, mutta A4. Sama...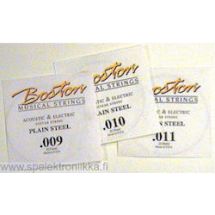 Tuote 105436. Sähkökitaran varakieli, teräs 0.020. Boston Musical Products. Paksuus n. 0.508 mm.
Soveltuu erittäin...