ALNICO 5 -magneetit, magneetti, halkaisija 5 mm
Main Page > Parts for musical instruments > Machineheads and other parts Boston / SPG > Pickup building parts
Tuote 102040. ALNICO 5, magneetti Ø 5mm (0.195") Tasaiset päät, soveltuvat ylä, ala ja keskimikin magneeteiksi (FRM). Vintage non staggered alnico 5 polepieces, Ø 0.195". Guitar pickup magnets sold individually. Näissä vain tehtaan varastointimagnetointi, eli käytännössä "tyhjiä".Lataus onnistuu helposti rare earth magneettien avulla. Esimerkiksi kahdella tällaisella: Tuote 107593. Lisäksi hyödyllinen kapistus napaisuuksien määrittämisessä on kompassi: Tuote 102053.ALNICO MAGNEETIT TOIMITETAAN VARASTOLATAUKSESSA (lataamattomina). JOS HALUAT, SAAT "LADATTUA" NIITÄ ENEMPI esim. RARE EARTH MAGNEETEILLA-------------------ALNICO MAGNETS ARE SUPPLIED AS "uncharged". IF YOU LIKE TO CHARGE THOSE MORE, USE RARE EARTH MAGNETS FOR CHARG-ING.
See also
Vintage pushback 18 awg stranded wire !!!
Tuote 113532. Mikrofonin fiiberisarja (prespaani) yksikelaiselle 52mm ST black. Alaosa 2.4mm, yläosa 1.6mm. Single-coil flatwork set, includes top and bottom. 52 mm...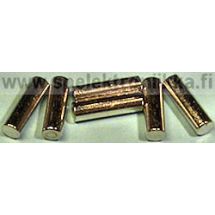 Tuote 102051. Pickup polepiece slug Kromatut teräspalat kitaramikrofoneihin. Kromatut teräspalat kitaramikrofoneihin missä käytetään suorakaidemagneettia mikrofonin alla. Ø 5mm...
Vintage pushback 18 awg stranded wire !!!
Product 104677. Guitar microphone winding wire, pickupwire AWG42 (0.06mm) typically about 170 - 180g / coil. Guitar Microphones Winding...
Tuote 103053. Kaulan kiinnityslevy kaulalevy KAULE1CR, kromi. Neck joint plates. Laadukas, hyväpinnoitteinen ja tukeva Boston Musical Products. Kaulalevy. Screw holes...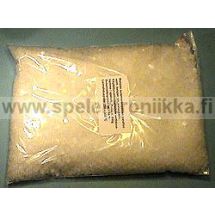 Tuote 102019. Parafin for guitar pickups, melting point 54 - 58 ºC. 500g polybag, more info in our web pages in "speksit". Kitaran mikkien parafiini, matalan...