Fiberboard Black approx 10" x 8" Sheet .062" Thick
Main Page > Parts for musical instruments > Machineheads and other parts OL / SPG / Boston > Pickup building parts
Tuote 103387. Fiberboard Black approx 10" x 8" Sheet .062" Thick +/- 0.5 - 0.8 cm.
Musta Vintage prespaanilevy ("fiiberilevy") paksuus 1.6 mm kitaramikrofonien rakenteluun. Prespaania on kohtuullisen helppo leikata ja sen sähköneristyskyky on hyvä. Prespaani kestää monenlaisia öljyjä. Jos haluat tehdä vintage mikin, silloin prespaani on oikea valinta. Levyn koko on "noin" koko, voi olla esim. +/- 5 - 8 mm.
Fiberboard material has a natural tendency to bend.  This should not however affect the final assembly once everything is held into place with magnets and such.
See also
Tuote 102045. Keraaminen suorakaidemagneetti. Käytetään mm. JB -tyylisten ja steelbar pickuppien rakentelussa. Ceramic guitar pickup magnet, commonly...
Tuote 102578. PB -tyylisen basson mikrofoni kuori pari, magneetti rei'illä. PB -style plastic covers (pair) with magnet holes. 14 x 28 x 57 mm + 2 screw holes. 4...
Shielded hotrail cable for guitar pickups and many other applications.
Tuote 102040. ALNICO 5, magneetti Ø 5mm (0.195") ALNICO 5 flat top magnets for guitar pickups soveltuvat ylä, ala ja keskimikin magneeteiksi (FRM). Vintage non staggered...
Tuote 101917. Vaihtokytkimen nuppi. VIPNUPWH, valkoinen 3 ja 5 -asentoisten kytkinten nuppi, 3WAY-SW01:lle, 5WAYSW01:lle, sekä OL kytkimille. Millimitoitus.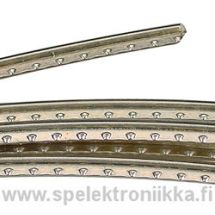 Tuote 102792. Otelautanauha, fret wire, FRETWIRE29H. Nickel / Silver = (German Silver, Paktong, New Silver). Toimitetaan n. 40 cm pätkissä. FRETWIRE29H kovuus HV200, kruunun...
Tuote 109484. Akustisen kitaran tallapinni muovia Ivory pearloid piste TPIVPEAABS. Bridge pin ivory, plastic, pearloid dot (dot diam. 3mm). Tallanasta.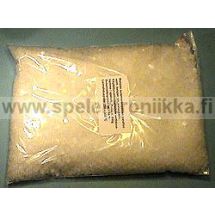 Tuote 102019. Parafin for guitar pickups, melting point 54 - 58 ºC. 500g polybag, more info in our web pages in "speksit". Kitaran mikkien parafiini, matalan...
Tuote 101860. Bell Top Hat nuppi white BENUPWHITE transparent.