Kupariteippi copper shielding tape (kuparifolioteippi) 1m, leveys 50mm
Startsidan > Gitarrdelar gitarrtillbehör Instrumentbygge tillbehör > Gitarrdelar gitarrtillbehör OL / SPG / Boston > Pickup delar
Tuote 104034. Kupariteippi copper shielding tape (kuparifolioteippi) 1m, leveys 50mm. Kupariteippi (kuparifolioteippi), leveys 50 mm, teippejä myydään metreittäin. Kitaroiden pleksilevyjen taakse häiriösuojaukseen. Kitaramikrofonien suojauksiin, RF-suojaukseen, antennien ja maatasojen tekoon, kelojen tekoon jne. Ei johtava liima. Katso myös sähköä johtava maali sivuiltamme.
Coppertape, copper shielding tape non conductive adhesive backing. Sold as 1 m. Width 50 mm, with non conductive adhesive backing.
This also helps many times to reduce the hum, buzz and other interferences from electronics such as now very common problems that comes from those small energy saving switched power supplies which are used for small effect boxes etc ...
Katso myös
Kupariteippi maadoituksien tekemiseen, RF -suojaukseen hurinoiden poistoon jne ...
Koppartejp elektriskt ledande lim för jordning, RF-skydd, etc ...
Monisäikeistä laadukasta pushback vintagelankaa !!!
Tuote 107456. Jakkilevy, ovaali syvennyksellä JAKLE1CR kromi. Jackplate for guitars. Oval recessed. Screw holes 2 x flat or oval head dia. 3.5 mm (0.138"). Jack hole...
Monisäikeistä laadukasta pushback vintagelankaa !!!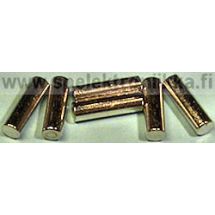 Tuote 102051. Pickup polepiece slug Kromatut teräspalat kitaramikrofoneihin. Kromatut teräspalat kitaramikrofoneihin missä käytetään suorakaidemagneettia mikrofonin alla. Ø 5mm...