Metallinuppi black 19 x 19 FDNUPBK ruuvikiinnitys
Startsidan > Gitarrdelar gitarrtillbehör Instrumentbygge tillbehör > Gitarrdelar gitarrtillbehör OL / SPG / Boston > Rattar för gitarr > Metallinupit
Tuote 101879. Potentiometrin nuppi. Karhennettu metallinuppi FDNUPBK, musta 19 x 19 tyyli, FULL DOME. Ruuvikiinnitys, ruuvi on kuusiokanta tai talttapää, riippuen nupin mallista. Full dome = täyspallukkakansi, Half dome = melkein tasakansi, Flat dome = tasakansi. Tämä nuppi sopii kaikkiin potentiometreihimme.
Engarved metal knobs, 19 x 19 style. Height 19mm, width 19 mm. To 6 mm shaft, screw adjust.
Katso myös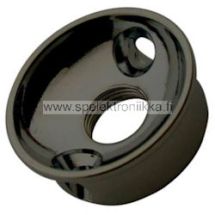 Tuote 105613. Jakkikuppi TC -tyylinen tuumakierre musta. Tämä on se "oikea" jakkikuppi. TE-model input cup, with angled screwholes, 3/8" 32 thread, black.
Näihin...
Tuote 101836. "Ultra made in Korea", potentiometrit kitaroille ja vahvistimille. A -merkintä on logaritminen (volume). B -merkintä on lineaarinen (tone, treble). Rungon...
Tuote SKL23338. Kieltenpujotusholkki KPH62019BK setti 6kpl. Korkeus n. 11.2mm, halkaisija n. 6.5mm, laipan halkaisija n. 8mm, sisäreikä laipan puolella n. 5.2mm, sisäreikä kartion...
Tuote 103054. Kaulan kiinnityslevy KAULE1BLK, musta.
Tuote SLM20570. Metallinuppi 16,5 x 18 push to fit musta dome 6 mm akselille. Halk. 16,5 mm, korkeus 18 mm. Sopii kaikille meidän potikoiden  rihlatuille ja halkaistuille 6mm...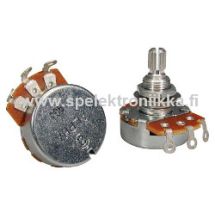 Tuote 114175. ALPHA 24mm kitarapotentiometri bushing 8mm ALP500kA43/log millikoko. HUOM !!! Mukana 2 mutteria + prikka helpottamaan pleksiin asennusta. Merkintä B...
Tuote 104396. Monorunko 6.3mm, Neutrik, ei kytkintä.