Ultra 18mm kitarapotentiometrit
Startsidan > Gitarrdelar gitarrtillbehör Instrumentbygge tillbehör > Gitarrdelar gitarrtillbehör OL / SPG / Boston > Potar > ULTRA potentiometrit kitaroihin
Tuote 101836. "Ultra made in Korea", potentiometrit kitaroille ja vahvistimille. A -merkintä on logaritminen (volume). B -merkintä on lineaarinen (tone, treble). Rungon halkaisija 18 mm.
Mukana 1 mutteri + prikka.
Pots for guitars and amplifiers. Diameter 18 mm (0.709"), depth of body 9 mm (0.354"), dia. of threads 8 mm (0.315"),length of threads 9.5 mm (0.374").
Katso myös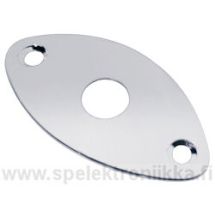 Tuote 102435. Jakkilevy kitaralle. Ovaali, ei syvennystä. Jack plate for guitar. Oval, not recessed. Screw holes 2 x flat or oval head, dia. 3.5 mm (0.138"). Jack hole...
Tuote 109248. Reunalista, reunanauha kitaraan ABS, White FWHT1560. Mitat noin mittoja. White, 1.5 mm x 6 mm x 1600 mm, (0.059x0.24x63").
Tuote 103209. Kitaran pleksilevy aihio, plektrasuoja aihio Black 1ply, B1PLYBIG, 285 x 450 mm. Kaikki mitat noin mittoja. Laadukas...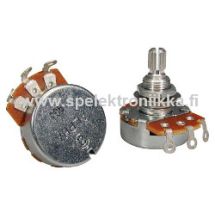 Tuote 114173. ALPHA 24mm kitarapotentiometri bushing 8mm ALP250kA41/log millikoko. HUOM !!! Mukana 2 mutteria + prikka helpottamaan pleksiin asennusta. Merkintä B...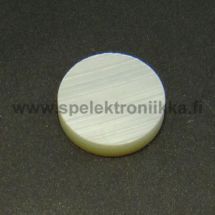 Tuote 104530. Otelautamerkki, simpukka aito MOP 6mm OTEMOP6. Valkeasta "helmiäisestä", simpukasta (MOP) valmistetut pyöreät otelautamerkit. Valikoitu AA laatu. Selected...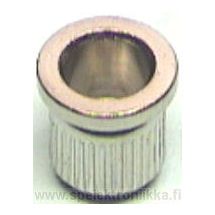 Tuote 104627. Kieltenpujotusholkki KPH22GD kulta, string bushing. Mitat lisätiedoissa. Boston Musical Products tai OL Guitarparts Korea.
Tuote 109252. TC -tyylinen kontrollipaneeli TELEKPCR kromi. TC -tyylinen kontrollipaneeli. TC -style control plate. Screw holes 4 x flat or oval head, dia. 3.7 mm (0.146"), pot...
Aito ALPHA ei klooni kuten nuo vihreät...
Tuote SLM20566. Metallinuppi crome 18 x 18.5 FDNUPCR ruuvikiinnitys. Full Dome, ruuvikiinnitys, ruuvi on kuusiokanta tai talttapää, riippuen nupin mallista. Jos kuusio...