Sähkökitaran kielisetti Savarez H50XL 9 - 42 Hexagonal Explosion string
Main Page > Accessories for music > Strings, capo's, slide tubes
Tuote 103652. Sähkökitaran kielisetti Savarez H50XL 9 - 42 Hexagonal Explosion string. Extra light, 009-011-016-024-032-042. Samat paksuudet kuin GHS GBXL kielissä. Todella arvostetun ja tunnetun akustisten kielien valmistajan sähkökitaralle suunnittelemat kielet. Made in France !
Savarez electric: Permanently innovative strings that deserve to be among the most upscale Savarez games. A tradition of more than 240 years! Savarez, it is also the string "made in France"!

Hexagonal Explosion strings round nickel spun on tin plated hexagonal core guarantee all the characteristics of magnetic metals. Our strings undergo treatments for better flexibility, perfect flexibility for bending and an extremely precise response.
See also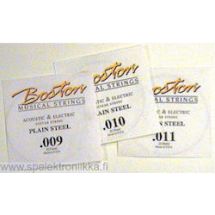 Tuote 103087. Sähkökitaran varakieli, teräs 0.009. Boston Musical Products. Paksuus n. 0.23 mm.
Tuote 104033. Plektralompakko, mukana 12 delrin plektraa, alkajaisiksi. Mystiikka / itämaisuus jne ... teema. Oivallinen plektrojen säilytyspaikka ja kulkee vieläpä helposti...
Tuote SKL20414. Kieltenohjain SKL20414CR kromi korotus 5 mm. Korotus 5 mm. Korotusholkin halkaisija 5 mm. Kielenpidin n. 7.2 x 12.2 mm.
Tuote 105549. Kromaattinen viritysmittari värinäytöllä (suora klepsi) Boston BTU200. Chromatic clip tuner (also G+B+U+V), with full colour display, 430-450Hz.
Manuaali...
Tuote 104494. Bipolaarinen askelmoottori laadukas Minebea 17PM-K042-01V 24VDC moottori, akselin pituus 18 mm, päässä 5 mm ulkokierre. Askelmoottori ei toimi ilman...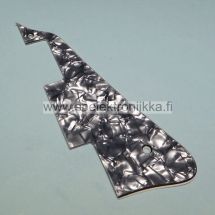 Tuote 103341. Pleksilevy (plektrasuoja) pearl steeldust LP3PB/W/B, LP -tyylisiin kitaroihin. LP -style plastic pickguard. 3Ply. Kuvat suuntaa-antavia, värisävyt eivät...
Tuote 104396. Monorunko 6.3mm, Neutrik, ei kytkintä.
Tuote SKL20413. Kieltenohjain SKL20413CR kromi korotus 2.5 mm. Korotus 2.5 mm. Korotusholkin halkaisija 5 mm. Kielenpidin n. 7.2 x 12.2 mm.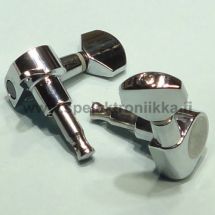 Tuote 104654. Virityskoneisto kitaralle SPG698CRL 6L, kromi, SPG / Boston. Virityskoneistosetti kuusikieliselle sähkökitaralle 6L. Välitys 16:1. Tuning...