ST -tyylinen 2xsingle 1xhumbucker VALMIS555PWHT, 4PLY Whitepearl pleksi, Kiina
Startsidan > Gitarrdelar gitarrtillbehör Instrumentbygge tillbehör > Gitarrdelar gitarrtillbehör Boston / SPG > Ready wired Plektrumskydd
Tuote 109813. ST -tyylinen 2xsingle 1xhumbucker VALMIS 555 PWHT, 4PLY Whitepearl pleksi, Kiina. ST -tyylinen valmiiksi koottu white pearl pleksilevy, missä 2 kpl yksikelaista mikrofonia + 1 humbucker, potikat, nupit, 5 -asentoinen kytkin.
Pre-wired pickguard assembly includes 2 single coil pickups + 1 humbucker, pots, knobs, 5 -way switch with knob. 4ply PWHT. Pearlwhite/W/B/W. China.
Katso myös
Tuote 109258. Jakkilevy, suorakaide syvennyksellä JAKLE3CR kromi. Jakkilevy kitaralle. Suorakaide, syvennyksellä. Rectangle jack plate for guitar, recessed. Srew...
Tuote 106816. Polko polyesterikondensaattori 15 nF/63V, r. 5 mm...
Tuote 114865. Hihnanuppipari HN492 kromi 2kpl ja ruuvit. Korkeus 9.3 mm, laipat 10 / 14 mm, reikä 4 mm.
Tuote 104110. Ovaalikanta nikkeli puuruuvi 2110NIW. 2.1 x 10 mm, wood, NI, oval. Soitinrakentelussa käytettäviä ruuveja. Mounting...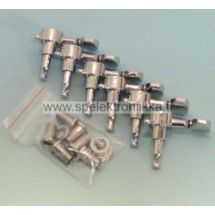 Tuote 109232. Kitaran virityskoneisto LC214CRL 6L kromi, ruuvit mukana. Edullinen Low Cost malli mutta kuitenkin aivan käypänen virityskoneistosetti moniin sovelluksiin, laatu...
Tuote 103053 . Kaulan kiinnityslevy kaulalevy KAULE1CR, kromi. Neck joint plates. Laadukas, hyväpinnoitteinen ja tukeva Boston Musical Products. Kaulalevy. Screw holes...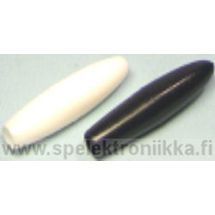 Tuote 102341. Tremolon (vibran) kammen muovipää. Plastic knob for tremolo arm. 5mm varrelle.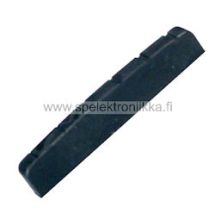 Tuote 102977. Grafiittisatula 6 -kieliselle kitaralle. Graphite pre slotted saddle to 6 -string guitar. Kaareva ja viistottu, curved and obliqued,
43mm x...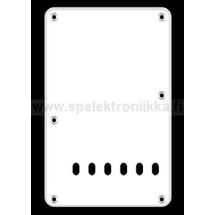 Tuote 109894. Tremolojousten peitekansi ST -tyyli Standard, White mattapinta. Tremolo spring cavity cover. Paksuus 1.6 mm. Plastic 86 x 138 mm, screw holes 6 x flat or...