ST -tyylinen 2xsingle 1xhumbucker VALMIS 21 BWB, 3PLY pleksi
Main Page > Parts for musical instruments > Machineheads and other parts OL / SPG / Boston > Ready wired pickguards
Tuote 101279. ST -tyylinen valmiiksi koottu pleksilevy, missä 2 kpl yksikelaista mikrofonia + 1 humbucker, potikat, nupit, 5 -asentoinen kytkin.
Pre-wired pickguard assembly includes 2 single coil pickups + 1 humbucker, pots, knobs, 5 -way switch with knob. 3ply B/W/B. Potikat ja kytkimet ALPHA.
See also
Kaularuuvi, suosittu koko. Laatu samaa kuin vaikkapa Gotohin ruuveissa.
Product 101783. Boston Musical Products Cosmo black (black Crome) with belt buckle / strap. Activities like Schaller's lock. Our most popular belt buckle. Flange diameter...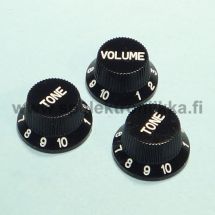 Tuote SST21085. ST nuppisarja musta 1 x volume 2 x tone. Korkeus n. 13 mm , leveys n. 17/25 mm. Boston Musical Products tai Korea, riippuen varastotilanteesta.
Tuote 109756. Muovisatula Hollow Body Style BLACK, 6 -kielinen. Yläpinta kaareva, alapinta suora. Leveys 42 mm, maksimikorkeus 9.2 mm.
Tuote 114902. Hihnanuppipari HN6916 kromi 2kpl ja ruuvit mukana. Korkeus 10mm, ulkohalkaisija n. 14mm. OL -guitarparts.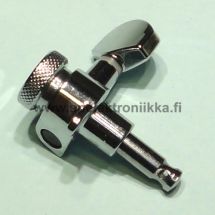 Tuote SVR20562. Virityskoneisto kitaralle lukolla SPGLOCK 6L kromi. Virityskoneistosetti kuusikieliselle sähkökitaralle 6L. Välitys 15:1. Locking tuning machine set...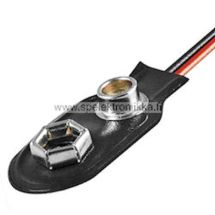 Tuote 103836. Paristoneppari, suora "tavallinen" johdot n. 150 mm. 9V paristolle ja monille muille samoilla kontakteilla oleville paristonpitimille.
Tuote 101918. Vaihtokytkimen nuppi. VIPNUPBK, musta 3 ja 5 -asentoisten kytkinten nuppi, 3WAY-SW01:lle, 5WAYSW01:lle, sekä OL kytkimille. Millimitoitus.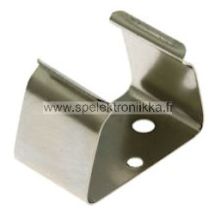 Tuote 114690. Paristonpidin 9V patterille paristo mahalleen, terästä 4 ruuvinreikää. Leveys alhaalta n. 25 mm, korkeus n. 19.5 mm.