Dr. Ducks Ax Wax & String Lube 118 ml
Etusivu > Musiikki -ja soitintarvikkeita > Soittimien hoitoaineet ja tarvikkeet
Tuote 112104. Dr. Ducks Ax Wax & String Lube. Kitaroille, banjoille, puupuhaltimille jne ... Toimii erittäin hyvin myös esim. ruusupuupintaisissa rummuissa jne ... saa muutamalla käsittelykerralla todella siistin pinnan. Käytä vain hyvälaatuisia 100% puuvillapyyhkeitä.
Ax Wax & String Lube, organic cleaner polishing moisturizer, 4 oz. flip top bottle As used by these manufacturers on all their instruments before sending out: Martin, Fender, Guild, Gretsch, Jackson, Santa Cruz, Charvel, Lowden, Lakland, Fernandes and many many more!
Käyttöesimerkkejä.
Ja myös toisenlainen lähestyminen samaan asiaan.
To start out using Dr.Ducks Ax Wax & String Lube properly, keep in mind that lT'S VERY CONCENTRATED: a little goes a long way, less is more with Dr. Ducks Ax Wax & String Lube - if you try and "gob" it on, you will not like it - if you follow the directions below, you'll love it !!
For spreading the polish on the instrument and for a buffing rag, ALWAYS USE A 100% COTTON CLOTH, the synthetics will all scratch your finish !!
Directions for Cleaning/Polishing:
1)- Use a few drops (very little) on a cotton cloth or put directly on the instrument.
2)- Spread as far as you can, - rub it in - using your fingers or a small piece of cotton fabric (so you can get the feeI of just how far this product does go).
3)- Let it set a few minutes.
4)- Using a piece of 100% cotton fabric, buff it out for full luster (if it feels a little "greasy" you 're not done buffing)
5)- Repeat step I on another part of the instrument and then repeat steps 2, 3 and 4.
6)- Now you know how to properly use Dr.Ducks Ax Wax & String Lube. So in the same manner
described above do the entire instrument, the headstock, fingerboard, front, sides, back, pickguard, pickup covers, tuning keys; all of it for a complete Dr.Ducks musical instrument detail.
For caked-on "sweat spots": lick your finger and remove. For hard to clean spots: repeat the process,
rubbing in a circular motion. For really hard to clean spots: try 50% rubbing alcohol and 50% water
to clean it, then reapply Dr.Ducks Ax Wax & String Lube to polish and moisturize the instrument.
You need to check with a professional about the type of finish on your instrument before trying the
alcohol/water trick to make sure that it won't hurt the finish).
7)- For strings: on with a small cloth - wipe off excess with a dry cloth.
8)- Directions for String Drag Friction: Lube with a small cloth or a "Q-Tip" all contact points for each
string. Dr.Ducks Ax Wax & String Lube also makes an excellent lube for tuning machine knobs and posts, as well as for bridge saddles and finetuners on locking tremolo systems. A touch in the right spots removing the excess can do wonders.
• An organic highly refined cleaning, moisturizing, polishing formula for all musical instrument
finishes: string, brass, woodwind.
• Do the entire instrument - body, headstock, fretboard , pickguard, tuning keys ... all of it.
• Unsurpassed for fretboards, bridges and as a raw wood conditioner - helps prevent fret oxidation.
• lncreases string life.
• Used by professionals worldwide .. .
• Comes in a generous 4 oz. oval shaped bottle with an applicator' flip top cap.
• U.S. made with U.S. materials.
• Full directions on the back of the bottle.
• A MUST to protect your instrument in all climates - dry or humid.
• Compliments and enhances the natural beauty of your instrument.
• This is the safest musical instrument cleaning-polishing-moisturizing formula in the World!
• VERY FRIENDLY to delicate VINTAGE finishes as well as all modern instruments.
Katso myös
Tuote SPH1622. Hihnalukkopari / hihnanuppipari lukolla SP1101BK musta. Toiminta kuten Schallerin ja Bostonin lukoilla. Uusin vaihtoehto näihin tyyleihin, ei logoja siksi...
Tuote 115327. Keraaminen Ceramic 8 Bar Magnet 5mm x 10mm x 60mm for guitar pickups. Keraaminen suorakaidemagneetti.  Monikäyttöinen magneetti, kitaramikkien päivityksiin, mikrofonien...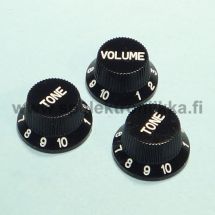 Tuote SST21085. ST nuppisarja musta 1 x volume 2 x tone. Korkeus n. 13 mm , leveys n. 17/25 mm. Boston Musical Products tai Korea, riippuen varastotilanteesta.
Tuote 111101. Klassisen kitaran kielet, Cobra Normal Tension. String set classic, normal tension clear nylon trebles & silverplated basses .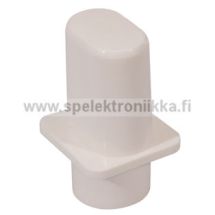 Tuote 101927. Vaihtokytkimen nuppi. LI-330, ivory 3 ja 5 -asentoisten kytkinten nuppi, DM30 ja DM50 -kytkimille. 330 -sarja "silinterihattu", TC -tyylisille kitaroille. Millimitoitus.
Tuote 104678. Kitaramikrofonien käämilanka, pickup wire AWG43 / 0.055 mm, n. 25.3g / 1km, n. 6 kohm / 1 km. Yhteen single coiliin menee tyypillisesti n. 0.9 - 1.4...
Tuote 113531. Mikrofonin fiiberisarja (prespaani) yksikelaiselle 50mm ST black. Alaosa 2.4mm, yläosa 1.6mm. Single-coil flatwork set, includes top and bottom. 50 mm...
Tuote 113528. Mikrofonin fiiberisarja (prespaani) yksikelaiselle 50mm TC black. Alaosa 2mm, yläosa 1.6mm. Single-coil flatwork set, includes top and bottom. 50 mm...
Tuote 104398. Monorunko 6.3mm, Switchcraft, ei kytkintä. Switchcraft jakki 6.3 mm, mono tai stereo, kierreosan halkaisija 9.4 mm. Switchcraft jack 0.25" thread outer...