Dr. Ducks Ax Wax & String Lube 118 ml
Main Page > Accessories for music > Care products and accessories for instruments
Tuote 112104. Dr. Ducks Ax Wax & String Lube. Ax Wax & String Lube, organic cleaner polishing moisturizer, 4 oz. flip top bottle As used by these manufacturers on all their instruments before sending out: Martin, Fender, Guild, Gretsch, Jackson, Santa Cruz, Charvel, Lowden, Lakland, Fernandes and many many more!
Käyttöesimerkkejä.
Ja myös toisenlainen lähestyminen samaan asiaan.
To start out using Dr.Ducks Ax Wax & String Lube properly, keep in mind that lT'S VERY CONCENTRATED: a little goes a long way, less is more with Dr. Ducks Ax Wax & String Lube - if you try and "gob" it on, you will not like it - if you follow the directions below, you'll love it !!
For spreading the polish on the instrument and for a buffing rag, ALWAYS USE A 100% COTTON CLOTH, the synthetics will all scratch your finish !!
Directions for Cleaning/Polishing:
1)- Use a few drops (very little) on a cotton cloth or put directly on the instrument.
2)- Spread as far as you can, - rub it in - using your fingers or a small piece of cotton fabric (so you can get the feeI of just how far this product does go).
3)- Let it set a few minutes.
4)- Using a piece of 100% cotton fabric, buff it out for full luster (if it feels a little "greasy" you 're not done buffing)
5)- Repeat step I on another part of the instrument and then repeat steps 2, 3 and 4.
6)- Now you know how to properly use Dr.Ducks Ax Wax & String Lube. So in the same manner
described above do the entire instrument, the headstock, fingerboard, front, sides, back, pickguard, pickup covers, tuning keys; all of it for a complete Dr.Ducks musical instrument detail.
For caked-on "sweat spots": lick your finger and remove. For hard to clean spots: repeat the process,
rubbing in a circular motion. For really hard to clean spots: try 50% rubbing alcohol and 50% water
to clean it, then reapply Dr.Ducks Ax Wax & String Lube to polish and moisturize the instrument.
You need to check with a professional about the type of finish on your instrument before trying the
alcohol/water trick to make sure that it won't hurt the finish).
7)- For strings: on with a small cloth - wipe off excess with a dry cloth.
8)- Directions for String Drag Friction: Lube with a small cloth or a "Q-Tip" all contact points for each
string. Dr.Ducks Ax Wax & String Lube also makes an excellent lube for tuning machine knobs and posts, as well as for bridge saddles and finetuners on locking tremolo systems. A touch in the right spots removing the excess can do wonders.
• An organic highly refined cleaning, moisturizing, polishing formula for all musical instrument
finishes: string, brass, woodwind.
• Do the entire instrument - body, headstock, fretboard , pickguard, tuning keys ... all of it.
• Unsurpassed for fretboards, bridges and as a raw wood conditioner - helps prevent fret oxidation.
• lncreases string life.
• Used by professionals worldwide .. .
• Comes in a generous 4 oz. oval shaped bottle with an applicator' flip top cap.
• U.S. made with U.S. materials.
• Full directions on the back of the bottle.
• A MUST to protect your instrument in all climates - dry or humid.
• Compliments and enhances the natural beauty of your instrument.
• This is the safest musical instrument cleaning-polishing-moisturizing formula in the World!
• VERY FRIENDLY to delicate VINTAGE finishes as well as all modern instruments.
See also
Tuote 101921. Vaihtokytkimen nuppi. LW-390-IN, valkoinen 3 ja 5 -asentoisten kytkinten nuppi, OAK ja CRL -kytkimille. Tuumakoko.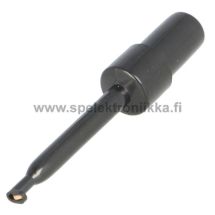 Tuote SMT20468. Mittakoukku klepsi musta yleismittarin johdon päähän. Sopii halk. 2mm mittapiikkiin esim. yleismittarin johtojen päähän. Oivallinen apuväline. Pituus...
Tuote 115196. IPA isopropanoli, isopropanooli 1 litra yleispuhdistusaine nestemäinen erittäin puhdas 99.8%. Elektroniikan yleispuhdistusaine. Isopropanoli irrottaa lian, öljyn, rasvan...
Tuote 102040. ALNICO 5, magneetti Ø 5mm (0.195") ALNICO 5 flat top magnets for guitar pickups soveltuvat ylä, ala ja keskimikin magneeteiksi (FRM). Vintage non staggered...
Tuote 114641. Rullatalla sähkökitara Schaller 12080200 STM Kromi. Mittakuva High-quality bridge for all Les Paul™* type guitars. Compatible with post spacings from...
Tuote 111101. Klassisen kitaran kielet, Cobra Normal Tension. String set classic, normal tension clear nylon trebles & silverplated basses .
Tuote 102417. Peukalonlepuutin bassoon. Muovia. Ei ruuveja mukana. Bass thumb rest. Plastic, 13 x 12 x 65 mm. Musta.
Tuote 104125. Ovaalikanta nikkeli puuruuvi 3012NIW. 3 x 12 mm, wood, NI, oval. Ovaalikanta nikkeli puuruuvi 3012NIW esim. Pleksin...
Tuote 110164. Conehead messinki, reikä 1.4 mm TFH® 4 mm Cosmo Black. Päätyreiän nimellishalkaisija n. 1.4mm. Suunnattu tavallisten nymfien, leechien, streamereiden...