Boston guitar maintenance kit polish and cloth 60ml spray bottle
Startsidan > Musikinstrument och musikprylar > Care products and accessories for instruments
Tuote 101957. Boston guitar maintenance kit polish and cloth 60ml spray bottle. Soittimien lakkapinnoille  kitaroille, bassoille, ukuleleille kiillotus / puhdistusaine spray pullossa + erittäin pehmeä 150 x 300 mm polyester / polyamidi liina. Paino n. 100g.
Boston Guitar Polish återvinner och belyser din gitarrglans. Ett instrument måste lysa lika mycket som spelaren. Fingeravtryck och fläckar försvinner som frost under morgonsolen när du använder Boston Guitar Polish och din gitarrs ursprungliga glans kommer att återvända.
Boston Guitar Polish levereras i en praktisk liten sprayflaska. När du har sprayat polermedel på gitarrens lack använder du en trasa som kommer i paket.
Katso myös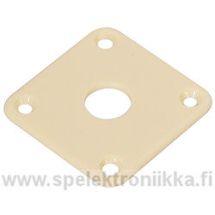 Tuote 103015. Muovinen jakkilevy, LP -tyyli cream JAKLE11CM. Plastic jackplate. 34 mm x 34 mm (1.339 x 1.339"), screw holes 4 x flat or oval head 3 mm. Jack hole dia. 9...
Tuote 103377. Otelautanauha, ruostumaton teräs (stainless steel frets). Todella laadukasta ja mittatarkkaa Sintoms Ltd terästä. Likipitäen...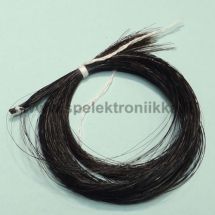 Myös kelttiläisiin käsitöihin jne ...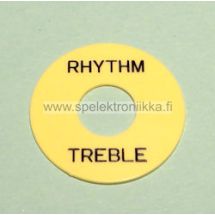 Tuote 109882. LP -tyylisen kitaran muovinen kytkimen peitelevy. Plastic switch plate. Out dia. 34.3 mm (1.350"), hole dia. 12.8mm (0.504"). With rhythm / treble text. Cream...
Tuote 107456. Jakkilevy, ovaali syvennyksellä JAKLE1CR kromi. Jackplate for guitars. Oval recessed. Screw holes 2 x flat or oval head dia. 3.5 mm (0.138"). Jack hole...
Tuote 111101. Klassisen kitaran kielet, Cobra Normal Tension. String set classic, normal tension clear nylon trebles & silverplated basses .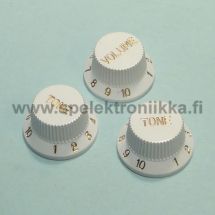 Tuote SST21086. ST nuppisarja valkoinen 1 x volume 2 x tone. Korkeus n. 13 mm , leveys n. 17/25 mm. Boston Musical Products tai Korea, riippuen varastotilanteesta.
Tuote 105758. Plektra Jim Dunlop Jazz III stiffo nylon black sharp tip. Sharp - 1.38.
Tuote 115338. Dunlop 6554 Ultimate Lemon Oil Fretboard 65 ei vaahteraotelaudalle. Fretboard 65 Ultimate Lemon Oil fingerboard polish, bottle with dab-o-matic applicator...