Sustainpedaali BFS-40 polariteetinvaihto (kytkee painettaessa, ei lukkiudu)
Main Page > Accessories for music > This and that
Tuote 100977. This Boston sustain pedal can be used with all digital pianos, midi keyboards and controllers, due to its polarity switch and is modeled after damper pedals as seen on acoustic (grand) pianos.
You can connect it to your device with a 1/4" jack connector.
If you own a keyboard with adjustable control pedal settings, you can also use the BFS-40 as a footswitch.
Sustainpedaali (kytkee painettaessa, ei lukkiudu), kuoret kuttaperkkaa tai muuta sellaista, poljin metallia ja pohja metallia, 6.3mm plugi, napaisuus vaihdettavissa takana olevalla kytkimellä, saat avaavan tai sulkevan toiminnon. Johto n. 1.8m.
See also
Tuote 103867. Rumpukapulat HM305B, 5-B pari hickory Hayman. Drumsticks, hickory, 15,8 x 404 mm.
Tuote 115007. Pleksilevy TC -tyylinen sparkle RED 2PLY , TC -tyylisiin kitaroihin. TC -style plastic pickguard. 2Ply / Sparkle / White). Kuvat suuntaa-antavia, värisävyt eivät...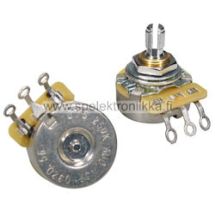 Tuote 115199. CTS USA 24mm potikka short bushing lyhyt kierre pleksiin 500k lin akseli läpi kuoren takaosan tuo vintage ulkonäköä, eli näissä varsi on tuotu potikan...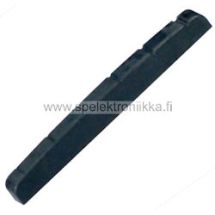 Tuote 102975. Grafiittisatula NTC5 6 -kieliselle kitaralle musta. Graphite pre slotted saddle to 6 -string guitar. Kaareva ja viistottu, curved and obliqued,
41.5...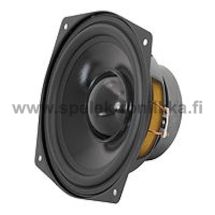 Tuote 102860. Basso / keskiääni kaiutin BAKE46. Basso / keskiääni 6" / 80W max. 4 ohm. n. 0.9kg.
4 -kiinnitysreikää, reikien väli n. 124 mm, äärimitat...
Tuote 102982. Grafiittisatula 4 -kieliselle bassolle. Graphite pre slotted saddle to 4 -string bass. Width
43mm thickness 6.3 mm, height 8.8 mm.
Tuote 104169. ST -tyylinen pleksi 3 x singlecoil tiger red, ST33TIGR/W/B. 3ply. Kuvat suuntaa-antavia, värisävyt eivät toistu useinkaan tietokoneen näytöllä sellaisina...
Tuote SKL1243. Akustisen kitaran kompensoitu luusatula valkoinen ala SKL1243. Kaareva. Koko 75.8-10.8-13-11.9 mm, paksuus 2.9 mm.
Tuote 109281. TALLA03CR, LP -tyylinen vintage talla kromi pitkä. LP -tyylinen sähkökitaran talla. LP -style tailpiece. Screw holes 2 x flat or oval head, dia. 2.8mm...