DC haaroitin daisy chain 1 to 8 Virranjakokaapeli efekteille Uros / Naaras 1x2.1mm in / 8x2.1 mm out
Main Page > Musical Instruments > Effects
Tuote 115147. DC haaroitin daisy chain 1 to 8 Virranjakokaapeli efekteille Uros / Naaras 1x2.1mm in / 8x2.1 mm out. UROS / NAARAS. DC -power -distribution cable, 1 x 2.1 mm male + 8 x 2.1mm female. For guitar effects. Full length approx. 20 cm. DC -syöttöön efekteille, valvontakameroille jne ...
Huomaa että maksimivirta mitä voit syöttää tällaisen haaroittimen kautta riippuu laitteidesi virrankulutuksesta. Jos puhutaan efekteistä jotka toimivat 9V paristoilla, niiden virrankulutus on yleisesti muutamia kymmeniä milliamppeereita / efekti sellaisia voi isoimmallakin jaolla kytkeä huoletta jokaiseen plugiin. Tyypillisesti efekteille tarkoitetut parhaat virtalähteet ovat niitä "vanhanaikaisia" lineaasrisia reguloituja verkkolaitteita joissa on tavallinen rautasydänmuuntaja, eli ei hakkurivirtalähde koska niiden kanssa on usein ongelmia varsinkin jos syötetään eri laitteille saman verkkolaitteen kautta virtaa. Tämä edellinen lause ei pidä suinkaan aina paikkaansa, mutta monesti havaitaan erillaisia pieniä surinoita niiden kanssa. Meillä on aina välillä saatavilla tavallista vanhanaikaista 9V reguloitua verkkolaitetta missä on - keskellä kuten efektipowereissa yleisesti on.
See also
Product 111022. Coolmorph ™ Coolmorph granules. Reshapable plastic. The substance is like a polymorph but melts already at a temperature of about 42º, ie with warm...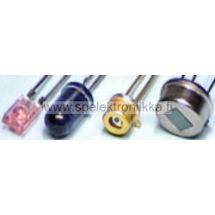 Tuote 110859. HIR204/HO IRlähetinLED, 850nm,
Vf typ. 1.5V, 3 mm, 60º.
Tuote 103728. Kaiutinkaapeli, OFC happivapaa kupari läpinäkyvä kuori 2 x 0.75 mm². Taipuisa, happivapaa kupari, napaisuus merkitty. Tuotekuva on yleiskuva.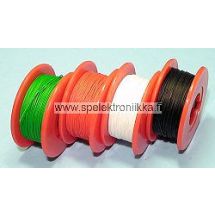 Tuote 103147. Räppilanka valkoinen, kiertoliitoslanka, wire wrap lanka. Ohut n. 0.25mm (30AWG) yksisäikeinen kiertoliitoksiin (wire wrap) tarkoitettu lanka. Käytetään myös...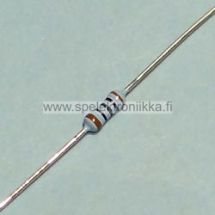 Tuote 106371. Hiilikalvovastus 560 ohm, 5%, 0.25 - 0.5W.
Tuote 110869. Punainen 3 mm LED diffusoitu low current. Kuten "tavallinen" diffusoitu 3 mm LED, punainen, mutta low current. Toimii 2mA virralla. Toimii merkkivalona pienellä virralla, ei...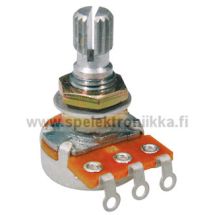 Tuote 101837. "Ultra made in Korea", potentiometrit kitaroille ja vahvistimille. "Center click" potentiometrit, lineaarisia = B...
Tuote 104394. Monoplugi 6.3 mm, metallia, kartiovedonpoisto, kuminen taivutussuoja. Maksimissaan jopa 7 mm kaapelille.
Tuote 108967. Jalkakytkin vaihtokytkin 2 x ON - ON "true pass kytkin" PK4. Hyvälaatuinen, lukkiutuva, metallia 2 x ON - ON, asennusaukko halk. n. 12 mm. Tällä saat...