Guitarlele polykarbonaatti PINKKI ukulelekitara !!!
Startsidan > Musikinstrument Gitarr Effekter etc ... > Ukulele Korala
Tuote 115311. Guitarlele polykarbonaatti PINKKI ukulelekitara !!! EI VOI OLLA TOTTA, MUTTA KUN ON ... Polykarbonaatista pyöräytetty kitaran ja ukulelen sekoitus jättimenestys maailmalla. Oivallinen soittopeli rantaleikkeihin, ei puuosia. Lisätiedoissa speksejä ja viritysohje.
The Korala PUG-40 is a perfect hybrid between a guitar and a ukulele. It sounds like a ukulele and with its 6 strings it is tuned like a guitar but a fourth up, so A-D-G-C-E-A.
The PUG-40 is made of acoustically accurate polycarbonate and because of that it is lightweight and durable.
Some call the PUG-40 a guitarlele, while others call it a traveler guitar or a kid's guitar. It's a fact that the PUG-40 can be used in different ways and because it is made of polycarbonate it can handle a few drops of water and it can handle variable temperatures.
It's a great guitar for beginners, vacationers and travelers, but more experienced players will be pleasantly surprised by the PUG-40 as well.
The pricing is very economical, which makes the PUG-40 a nice musical present. It is available in multiple colors: black, red, orange, lightblue, pink and dark brown.
You want to take the PUG-40 to the stage? They are avalable with piezo pickups and a built-in amp / jack output as well.
Specifications:
– scale: 43 cm
– neck: 56 mm
– color: pink
Katso myös
Suojattu kaapeli kitaramikrofoneille. Ohut, oivallinen myös monissa muissa elektroniikan kytkennöissä.
Tuote 114865. Hihnanuppipari HN492CR kromi 2kpl ja ruuvit. Korkeus 9.3 mm, laipat 10 / 14 mm, reikä 4 mm.
Tuote 109739. ALPHA Push Pull audio potentiometri kytkimellä ALPP500-A52/log. Laadukas ALPHA Push Pull kytkin, ensiasennuspotikka monilla kitaramerkeillä. Tuumajako...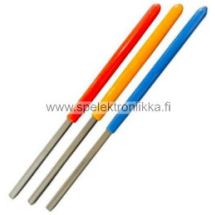 Tuote 113382. Fret End File TL-FE2 Medium Hosco R = 2 mm 1kpl. This fret dressing file is designed for fret end work. Pencil shape of these tools...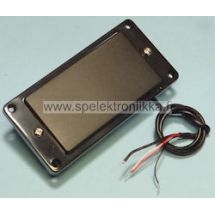 Tuote 104615. Humbucker OL® All Position Passive Steel Bar Artist -series Black. "Aktiivimikki" kuoressa passiivimikki. Musta...
Tuote 103642. Mikrofoninvaihtokytkin "kokonaan cosmo black" TOGGSW1CBB (CosmoBlack/Black). LP tyylinen vaihtokytkin kahdelle mikrofonille, 3 -as. mukana musta nuppi. Näkyville...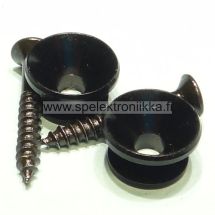 Tuote 115317. Hihnanuppipari HN492BK musta 2kpl ja ruuvit. Korkeus 9.3 mm, laipat 10 / 14 mm, reikä 4 mm.
Supersuositut hohtotikut synkkiin ja pimeisiin rientoihin ! Suomen halvimmat ?
Tuote 114255. Cabasa Afuche halkaisija n. 85 mm Hayman. Kokonaispituus n. 17 mm. Kahvaosan pituus n. 9.5 cm.