Humbucker zebra neck 50 black mounting ring HNZ50ZEBRA yellow wire
Startsidan > Gitarrdelar gitarrtillbehör Instrumentbygge tillbehör > Gitarrdelar gitarrtillbehör OL / SPG / Boston > Gitarr pickuper övriga delar
Tuote 109869. Humbucker zebra neck 50 black mounting ring HNZ50ZEBRA yellow wire. Keraamiset magneetit. Sarjaan käämityt mikit. Muovikehys + kehysruuvit 4kpl + jouset + 2 kpl jousien ruuveja. Kehys mataloituu n. 5.0 > 3.2 mm, tasapohja.
Includes mounting ring with screws + springs and 2 screws. 6 -adjustable polepieces. Polepiece spacing 50 mm. Keltainen johdon päällys.
BARE WIRE = GND, connected to pickups metal bottom. WHITE = "HOT"
Edullinen Kiinalainen mikki.
Katso myös
Tuote 109753. Muovisatula BLACK 43 mm, 6 -kielinen USA F -style ST -series. Width 43 mm, thickness 3.5 mm, max. height 5 mm.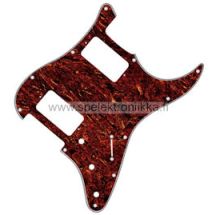 Tuote 105465. ST -tyylinen pleksi 2 x hum Tortoise Medium/White/Black/White ST23TM/W/B/W. 4ply. Kuvat suuntaa-antavia, värisävyt eivät toistu useinkaan tietokoneen näytöllä sellaisina...
Tuote 102388. Kieltenohjain, pit. 44.5 mm, kiinnitysväli 30.0 mm, reiät 2.40 mm. Tension bar, length 1.752", hole spacing 1.181", hole dia. 0.094".
Tuote 101919. Vaihtokytkimen nuppi. VIPNUPCM, ivory 3 ja 5 -asentoisten kytkinten nuppi, 3WAY-SW01:lle, 5WAYSW01:lle, sekä OL kytkimille. Millimitoitus.
Tuote STC20575. Yksikelainen ST kitaramikrofoni OL® SP050BK Black Middle. Ceramic. Screws and springs included. DC resistance n. 6 k, inductance n. 5.8 H. Wires Red/Black.
Tuote 114785. FRSETBK220 FR -tyylinen tremolo (vibra), musta. FR -tyylinen tremolo (vibra), setti sisältää tremolo + kampi + 3 kpl jousia + jousen pidike + tallan vastakkeet...
Tuote 109258. Jakkilevy, suorakaide syvennyksellä JAKLE3CR kromi. Jakkilevy kitaralle. Suorakaide, syvennyksellä. Rectangle jack plate for guitar, recessed. Srew...
Tuote 107457. Jakkilevy, ovaali syvennyksellä JAKLE1BK musta. Jackplate for guitars. Oval recessed. Screw holes 2 x flat or oval head dia. 3.5 mm (0.138"). Jack hole...
Tuote 101849. Potentiometrin nuppi. ST -tyylinen tonenuppi ivory (cream) STNUPTI musta teksti. Korkeus n. 13 mm , leveys n. 17/25 mm. Boston Musical Products tai Korea, riippuen...